Rent Control Proposal to Protect Tenants
By Ken A. Epstein
An Oakland City Council committee has begun a discussion of limiting or eliminating the right of landlords to raise rents to cover the costs of their mortgages and other "debt service" expenses.
Under the city's current rent ordinance, an owner can pass through to tenants up to 95 percent of mortgage costs after a new purchase. The Rent Board's recommendation is that the increases be limited to 7 percent.
An alternate recommendation by the Rent Board was to eliminate debt service increases altogether, similar to other rent controlled cities.
"Of the 10 major jurisdictions in California with Rent Stabilization Ordinances, four cities authorize debt service rent increases.
Oakland is the only city where there are (almost) no limits … on rent increases based on debt service," according to a report prepared by city staff for the Community and Economic Development (CED) Committee's meeting last Tuesday.
Affected by the rent ordinance are about 60,000 residential units in Oakland. Rent increases tied to mortgage costs were a big issue during the housing boom and could be again when the housing market recovers.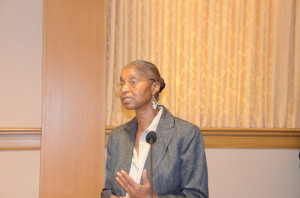 Lining up to speak against the proposal at the CED meeting were small landlords and representatives of landlord organizations.
Richard Phillips, a contractor and architect who manage a few apartment buildings, said it was difficult to find funding for seismic retrofitting for apartment buildings, which puts residents' lives at risk when there is an earthquake.
"Debt service and capital improvements have to be relaxed in order to pay back these loans so owners will borrow the money and do the seismic retrofits," he said.
Charlotte Woodard, a small landlord and retired teacher. said the City Council should postpone a decision until it does more research.
"My property is underwater, and I cannot access a commercial loan," she said, explaining that she cannot afford to make repairs to her rental property.
One of those supporting the rent proposal was James Vann, an architect and co-founder of the Oakland Tenants Union.
"What debt service really means is have your tenants buy your building for you," he said. "And if that building sells again in five years, then make the tenants pay for it again."
"In Oakland, capital improvements are paid 100 percent – passed through to tenants. Housing service costs are paid 100 percent by tenants. Why should the cost of buying the building be passed through to tenants," he said.
"If you read the (city) report, there were some rent increases well over 100 percent, one that was 233 percent. And tenants can't even object to that."
Asking for more information on other rent ordinance proposals, councilmembers tabled the discussion until September.