Proposed Coliseum City Project Could Cost Oakland 8,000 Jobs
Posted in Coliseum City, Economic Development, Gentrification, Health, Housing/Foreclosures, Labor, Oakland Job Programs, Responsive Government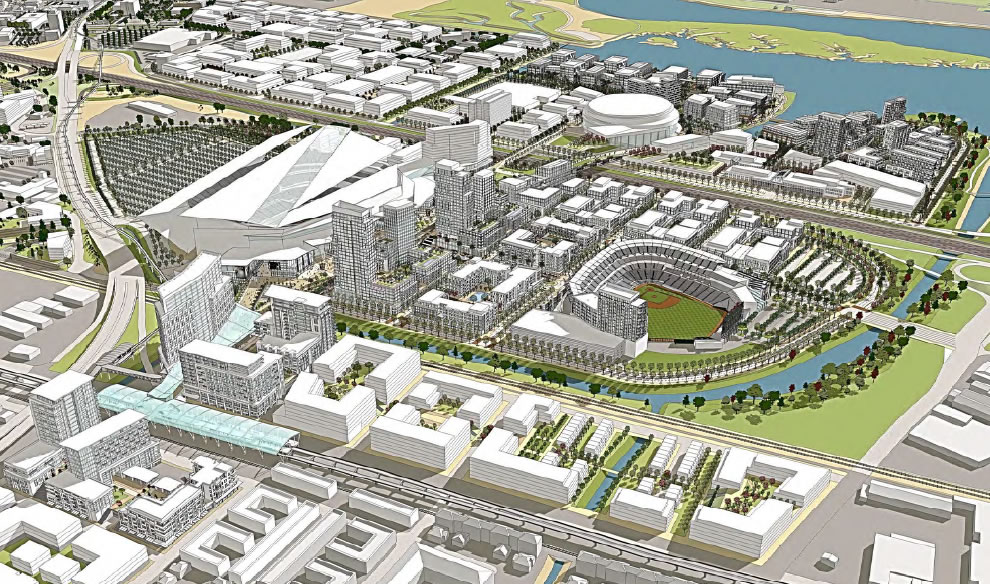 By Ken Epstein
Whether the proposed massive Coliseum City project would manage to save any of Oakland's three major sports franchises is uncertain.
There are a lot of questions in the air about where the A's and the Raiders are likely to land, and it appears that the Warriors all are but gone.
But what is certain, according to many community activists and business observers, is that the rezoning proposals that are part of the project would effectively eliminate the city's only industrial park, pushing out 150 businesses that employ over 8,000 workers.
Many of these are good stable jobs, such as warehouse, that pay $50,000 to $75,000 a year.
The way it would work, knowledgeable observers say, is that as soon as the industrial park is rezoned to allow retail and residential units, the market value of the land would more than double.
Companies would have to move if could not pay the higher rents. Property owners would have incentives to sell and move to other cities.
Even the news that zoning changes might be in the works could encourage speculators to begin to snap up properties, as has been occurring for years in West Oakland.
The city administration's proposal, contained in the Coliseum Area Specific Plan and several volumes of documents in an Environmental Impact Report, is designed to establish new land use and zoning regulations that will guide development in the area around the Oakland Coliseum and the Oakland International Airport for the next 25 years.
The draft plan was released on Aug. 28 and the final plan was released on Jan. 30 – developed by city staff and consulting firms for the past few years. Although there have been a number of public input sessions, there has been no collaborative planning process.
The timeline calls for the specific plan to be approved by the Planning Commission on March 4 and forwarded to the City Council for approval in March or April.
The plan has been kept purposely "flexible" or indeterminate because the content of the project ultimately will depend to a large extent on who the developers will be and what they will want to build on the 800 plus acres that include the Coliseum and its parking lots, the Oakland Airport Business Park across the freeway from the Coliseum and waterfront area along the Bay.