Pressure Grows for Tagami to Turn Over Army Base Property to CWS
Posted in Army Base Jobs, Business, Economic Development, Environment, Health, Labor, Oakland Talks Trash
By Post Staff
Connected with the implementation of the Oakland's garbage agreement is the unsettled question of when the city's agent Phil Tagami will turn over property at the Oakland Army Base Development so that California Waste Solutions (CWS) can build a new recycling center and finally move out of the West Oakland community.
CWS' recycling facility will mean construction and recycling jobs for Oakland residents and will take 18 months to build.
The city has promised to give the property at the North Gateway area of the Army Base to CWS in 2016, but some say the date could be put off for a year or more beyond that date.
Speaking at Monday's council meeting, Councilmember Rebecca Kaplan pushed the administration to fast-track efforts to turn the property over to CWS.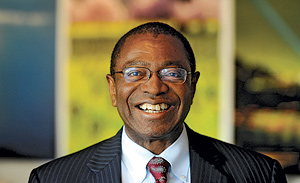 Addressing concerns of residents who are distressed that the company is still in their community, Kaplan said, "City Council voted years ago to move the recyclers out of the neighborhood and over onto the Army Base."
"For reasons that still continue to baffle, years pass, and that piece of property still has not been turned over," Kaplan said. "It is not the fault of the recyclers that they have still not moved."
"Despite the vote of this council, … that has not been done. I want to be very clear that we expect that to be accomplished – immediately. Is work being done to expedite the process?"
Responding to Kaplan, City Administrator Henry Gardner said, "I have met with Phil Tagami, who is our agent on that site and our future developer." There is an "urgency" and a "commitment" to make the property transfer happen, he said.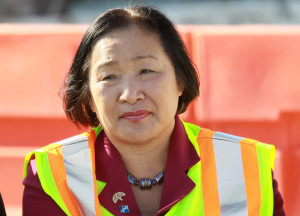 And there are questions why the city is paying Tagami to be its staff/agent, which permits him arrange for his own businesses with taxpayers' funds, while city priorities are paced on the waiting list.
Mayor Jean Quan said that the transfer of the property to CWS had bogged down in a lot of complicated issues.
"I started working with Fred Blackwell, and we will continue to work on how quickly we can get CWS into their space," said a the council meeting. "The original delay is that they are still using part of that space over there as a staging area for the demolition of the (old Bay) Bridge."
"This is something that needs collaboration. I don't like that people are being blamed for something that's pretty complicated," said Quan.
Some say Tagami wants to push that date back, though other are saying that he is responding to pressure and seeking to start the project on time or move the date forward.
In a recent email to the Oakland Post, Tagami wrote: "The city has requested an earlier delivery date of July 2016 in January 2014, and such a date is possible if the current sequencing plan continues without interruption or unreasonable weather delay," Tagami said.
According to Councilmember Lynette McElhaney, Tagami is hearing the concerns raised by the council and community members and is seeking to address those concerns.
A major problem facing the infrastructure development is that it may run out of money before it is completed, according to a source close to the project.
If the development runs out of cash before it is completed, scheduling becomes crucial, because what is scheduled to be built at a later date may never get built, said the source, who raised some questions.
Will the project complete the work first for Tagami and his partner Prologis? Or will he expedite the city's priorities – preparing the property for the recyclers and for OMSS truck parking?
Why is the city paying Tagami to be its staff/agent so he can arrange for his own businesses to benefit his personal private gain while using taxpayers' money?