Potential Statewide Initiative Would Dramatically Expand Rent Control
Posted in Community, Economic Development, Gentrification, Housing/Foreclosures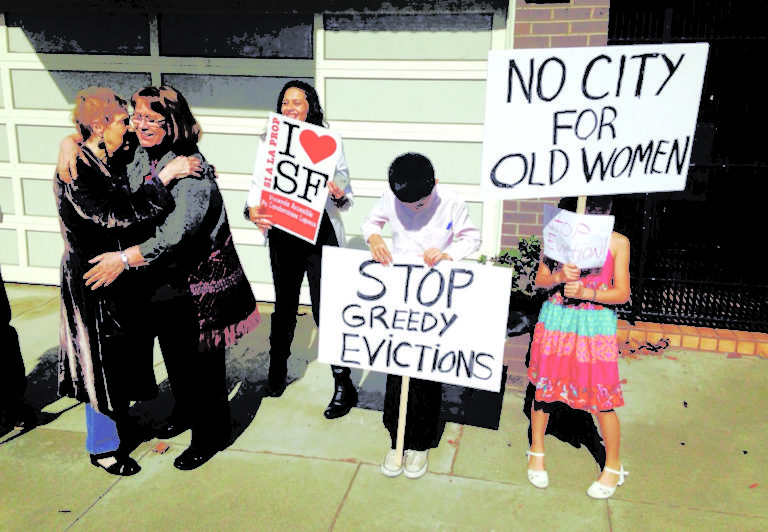 A potential 2018 statewide ballot initiative to dramatically expand rent control in Oakland and other cities and counties in California was filed last week.
The initiative would repeal the state Costa Hawkins Act, restoring the right of local jurisdictions to choose the type of rent control that is right for their communities, making it once again permissible for cities and counties to apply rent control to more recently constructed units and single-family units, and to establish vacancy control.
Filed at the State Attorney General's office by Christina Livingston of ACCE Action, Elena Popp with the Eviction Defense Network and Michael Weinstein, President of the AIDS Healthcare Foundation, the effort is also supported by dozens of other organizations including the California Nurses Association, Los Angeles Tenants Union, SAJE, LA CAN, LA Voice (a PICO affiliate), Housing Long Beach, Eviction Defense Network, North Bay Organizing Project, Gamaliel of California, Inquilinos Unidos, Black Community Clergy and Labor Alliance.
The move to file is driven by the state legislature's failure to act on AB 1506, a bill introduced this year to repeal Costa Hawkins. Housing justice groups are calling on the state legislature to do their job and pass AB 1506.
"You're more likely to be renting from Wall Street than a landlady upstairs these days. My landlord is Blackstone, the largest private equity firm in the world and the largest landlord of single family homes in the country," said Merika Reagan an ACCE member and East Oakland resident
"When my lease was up last fall, they threatened to raise my rent $1,000. Landlords like mine are only growing in California – we need to repeal Costa- Hawkins to stop this rent gouging," said Reagan.
"Rent in California is out of control. I moved here in 2013, and have already moved four times due to my rent being raised. The homeless problem in L.A. is only going to get worse if we don't repeal Costa-Hawkins," said Ismail Marcus Allgood, a South L.A. resident and a leader with L.A. Voice.
"The Mariachi musicians and other tenants in Boyle Heights are fighting an eviction because they can't pay the 80 percent rent increase demanded by new owners. The building is not covered by L.A.'s rent control ordinance because of Cost- Hawkins since it was built after 1978," said Walt Senterfitt of the Los Angeles Tenants Union.
Costa-Hawkins permits landlords "to kick out long- term, low-income tenants, often families of color, and replace them with higher income people that can pay high rents. Repealing Costa-Hawkins is an essential part of defending our home during this statewide eviction crisis," he said.