Overcomers With Hope Offers Youth Digital Arts Training
Posted in Community, Education/Schools/Youth, Oakland Job Programs
By Carla Thomas
Overcomers With Hope (OWH) Television Broadcast Digital Arts Media Training Program based in Oakland is set to re-launch its services to underserved youth.
The state-of-the-art facility is housed in the Liberty Hall – Marcus Garvey Building in West Oakland.
"Our creative media and training program provides students with an introduction to television production at the broadcast level," said OWH President Bishop J.E. Watkins.
According to Watkins, OWH has assisted over 100 of youth in the past three years, with life and production skills through a series of courses with instructors from local networks. The program will offer four-week sessions, comprised of two-hour classes that meet twice a week.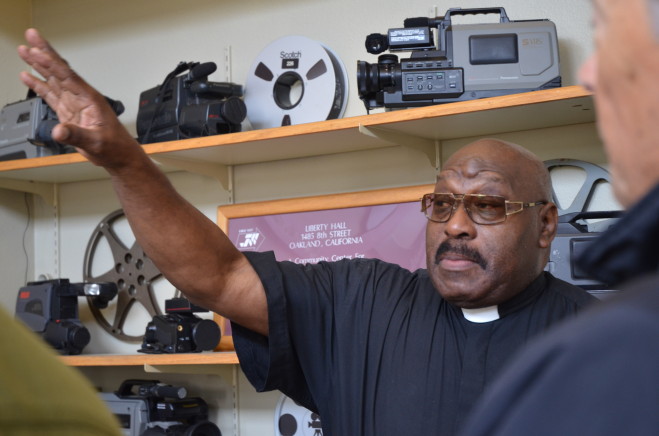 Watkins plans to extend the class schedule to five days a week as the program expands.
With some new equipment upgrades and a partial remodel, Watkins is excited about the future. "This will help us train more than 25 youth within the next 18 months ages 16-24," he said, adding that this is an affordable training program, compared to private programs that cost as much as $90,000.
The 2,500-square-foot studio has a seating capacity of 80 and includes a 40-foot green screen for animation and special affects. "We can host community functions in addition to creating and producing content," he said. OWH has even contributed local footage for an Oprah Winfrey Show segment on human trafficking.
As of September 2013, OWH is no longer a tenant but owner of its building. In partnership with Healthy Communities and the Black Nurses Association, OWH shares space at 1485 8th St.
"We can stop the violence through public access TV and provide youth with skills in an ever growing industry, "said Watkins.
"Video is power, media is power, and we seek to uplift youth so that they are self sufficient and employable. In this way they can create jobs and opportunities," he said.
Watkins credits Chief Engineer Bill Gillice of Largent Video for on-going contributions, along with staff from Grass Valley and Editware. "Their donations and training have enabled us to build our capacity to serve," he said.
Generous donations over the years from supporters and CBS-KPIX have garnered the studio a 4000 Grass Valley switcher, Calypso switcher, green screen and animation technologies. "Our classes will instruct students on vector scopes, waveform monitors and all equipment," he said.
For more information or to inquire about contributions visit: www.owhstudios.tv