OUSD Gets Ready for Start of School – Monday, Aug. 24
Posted in Community, Education/Schools/Youth
Oakland, other districts, struggle to hire in face of teacher shortage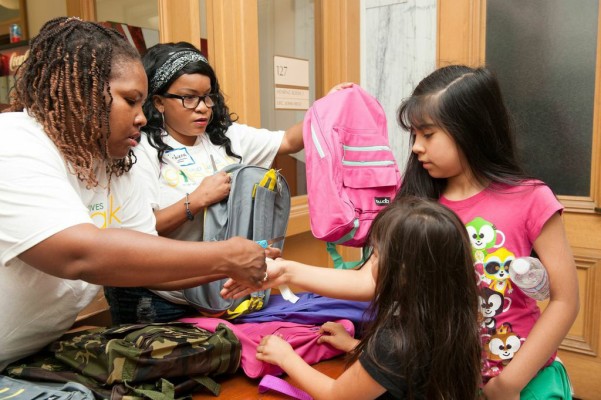 Oakland Natives Give Back provided free backpacks and supplies to children at the annual Attend and Achieve Back to School Event at Oakland City Hall in 2014. This year's event will be held Saturday, Aug. 22.
By Ken Epstein
The Oakland school district is doing parent outreach and conducting a publicity campaign to let families know that the first day of school is earlier than usual this year – Monday, Aug. 24.
"We usually start the week before Labor Day, and this week's it's two weeks before the holiday – we're working to get the word out," said Troy Flint, spokesman for the Oakland Unified School District (OUSD).
Teachers and administrators are getting ready to go back to work, and in-service trainings are being organized for school staff.
All new and returning students are expected to register before school starts. Parents and guardians should contact their school for registration dates or check the district website – www.ousd.org.
Information on enrollment for new students is available online or at (510) 273-1600.
Alameda County is coordinating requiring vaccinations and medical checkups for students. Information is available on the district website.
As in previous years, the district is struggling to guarantee that a credentialed teacher is working in every classroom, starting on the first day of school.
OUSD has a chronically high teacher turnover rate. Last year, the district lost about 18 percent of its teachers, meaning that it had to hire about 400 new teachers by the time school started.
Competition between districts for teachers is particularly fierce this year – with a national and state teacher shortage that so far has not been addressed by public officials.
The shortage is particularly acute is the areas of special education, science, math, bilingual education and foreign language instruction.
"There is increasing demand for teachers in Oakland and other districts, while the pool of available candidates is smaller – the chickens are coming home to roost," said Flint, who said he thought OUSD will be able to fill its needs for new teachers by the opening of school.
Backpacks and school supplies will be given away again this year by Oakland Natives Give Back, which is holding an Attend and Achieve Back to School Rally on Saturday, Aug. 22 at Oakland City Hall, Frank Ogawa Plaza.
Registration is from 9 a.m. to 10 a.m. Register online at [email protected]
The Oakland Public Education Fund is also conducting a drive to deliver 4,200 backpacks full of school supplies to students at 75 public schools. The organization is seeking volunteers to help fill the backpacks and load them into vehicles to be delivered to individual school sites.
For information about volunteering, email [email protected]
Lend A Hand Foundation is working with volunteers to stuff backpacks for over 3,500 students in more than 10 Oakland schools.
The schools are: Coliseum College Prep, Communities United, Frick Middle School, Futures, Martin Luther King Jr., Melrose Leadership Academy, Parker Elementary, Place at Prescott, Roots Academy, and West Oakland Middle. Also LAHF, through its Stay In School Program will provide other basic needs for students to be equipped to start the new school year.
For more information, go to www.lendahandfoundation.org