Opinion: We Need to Stand for Leonard Powell
Posted in Berkeley, Community, Economic Development, Equal Rights/Equity, Gentrification, Housing/Foreclosures, Probate court reform, Responsive Government
Court Hearing Jan. 29 for Veteran Fighting to Keep City from Taking His Home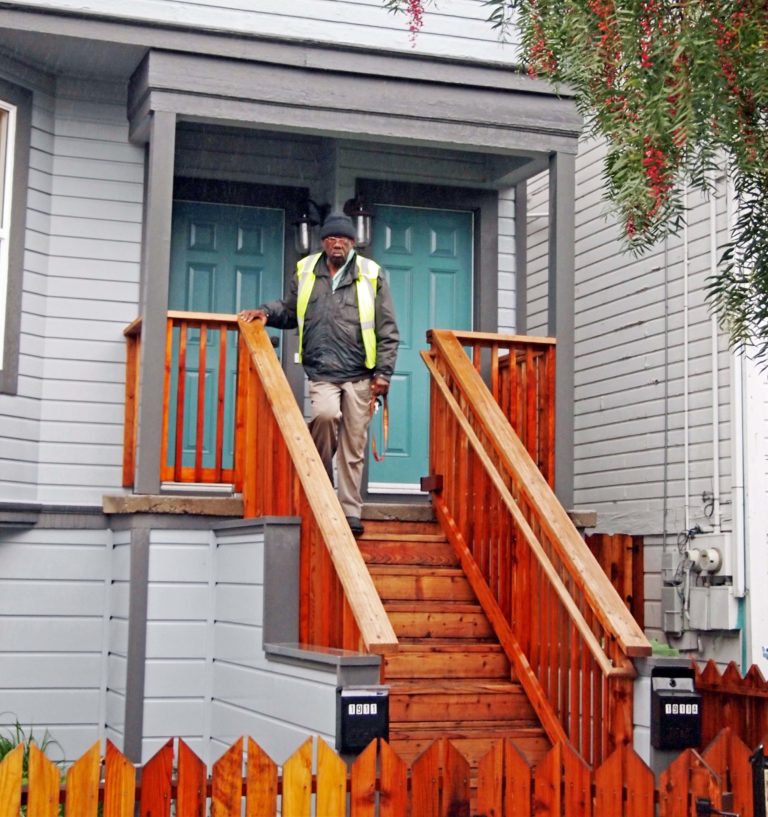 Leonard Powell stands on the front porch of his home.
By Gene Turitz
Mr. Leonard Powell is going to Alameda County Superior Court on Tuesday, Jan. 29 to fight to keep the home where he and his family have lived for over 40 years, which is being taken by the City of Berkeley.
The hearing will be held at 10:30 a.m. at the superior court at 24405 Amador St. in Hayward.
The court has ordered the receiver, Gerard Keener, and the City of Berkeley to provide the documents to Mr. Powell that show how the cost for bringing his house up to code increased from between $150,000 and $200,000 to over $700,000, which he is now being forced to pay.
We still do not know who in the City of Berkeley decided to go after Mr. Powell by "Red Tagging" his home. Was it the Police who wanted to "punish" a member of Mr. Powell's family? Was it the inspection services, which were responding to concerns over Mr. Powell's well-being?
While we have been asking these questions, the City of Berkeley, whose assistant City Attorney is appearing in court with the receiver, claims that the city is really not involved in this situation.
While the City of Berkeley and its City Council express concerns about its low and extremely low-income residents, the actions of the city administration speak differently.
Walking around South Berkeley we can see multi-unit buildings posted with signs saying that buildings are not earth-quake safe. While a program has been in effect since about 2005 to have these "Soft-Story" buildings brought up to code, landlords are still collecting rents from the tenants living in unsafe conditions.
Have any of these properties been assigned "receivers"? Have any of these property owners paid huge amounts to get their property back? Who in the City of Berkeley makes the decisions to protect the owners of these properties rather than ensuring the safety of the residents?
Can the City Council explain how a home, lived in by a low-income resident in South Berkeley for over 40 years now, through actions carried out by the City, becomes a place where only a high-income person can live?
This must be the same City Council that approves the construction of buildings that will only house people from high-income backgrounds or who are earning high incomes.
Join us in asking the City Council these questions. Write to your councilmember about Mr. Powell and what the City of Berkeley is doing to him. Write to ask what affect the housing policies of the City will have on those of us whose lives and families are here? Ask why the only people for whom they seem to have concerns are the profit-making developers of high cost, market rate units.
Get together with Friends of Adeline to talk about these questions and to stand with Mr. Powell and other families being forced out of our community. Meet with us on Saturday, Jan. 26, 11 a.m.-1p.m., at Harriet Tubman Terrace Apartments, 2870 Adeline St., Berkeley (between Oregon and Russell streets) .
Attend the court hearing Tuesday, Jan. 29 in Hayward.
Contact the Friends of Adeline at (510) 338-7843 or [email protected]
Gene Turitz is a member of Friends of Adeline.