Opinion: Full Funding For Apprentice Training and City Job Centers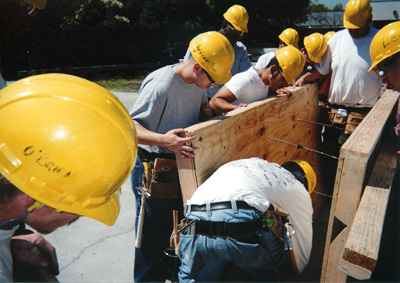 By Desley Brooks, District 6 Councilwoman
Construction is booming in Oakland. From almost anywhere in the city you can see cranes, building materials stacked near the streets and people in hard hats working hard throughout the day.
As our city undergoes this much needed growth it's imperative we make sure local residents benefit from the jobs as well as the buildings that are created. Too often that hasn't been the case. That's why I've proposed proactive legislation focusing on construction sector jobs that will help provide job security and training within these booming industries.
For 16 years I've worked to keep Oaklanders employed, with a holistic approach including worker protections, living wages and appropriate training. I've advocated for serious investment into places that prepare young adults for the working world because I know sustainable jobs require proper preparation and training.
These programs focus on providing real work experience, industry specific hands-on training and the life skills necessary for success to under resourced communities.
My efforts have been aimed at not only ensuring that profitable temporary jobs go to Oakland residents, but that residents also have a pathway to careers, business ownership and true economic security.
This is why I've introduced legislation that provides funding for Cypress Mandela, the Laborers Local 304 Training Foundation, Oakland Job Centers and other programs with successful records of developing, growing and sustaining workforces in Oakland.
Building a strong economy requires making sure that our communities have the resources required to produce a skilled workforce, with well trained workers equipped to handle modern industry jobs.
The institutions that once provided our communities with entryways to careers are waning while programs like those supported in the legislation
I've proposed pick up the slack. Too often these organizations are left without the support of local government to provide the services our communities so desperately need. We cannot expect these programs to function at their full potential while they lack the resources needed to operate.
The legislation I've presented ensures adequate funding for places like Cypress Mandela so they are better able to serve all Oakland residents.
Some may argue that the allocation of resources towards these organizations is unfair, that all communities deserve entryways to gainful employment.
I remind those people that these programs exist to focus on communities that are often left out of other efforts aimed at hiring, training and retaining local workers.These communities deserve real support too. Investing in these often overlooked communities is money wisely spent, providing benefits for community-at- large. For example just last year, Cypress
Mandela passed the first class of students to receive railroad specific training. This training provided them with the skill set necessary to maintain our BART system and keep over 50,000 daily riders safe.
That's a return every BART rider in the Bay Area benefits from. Investing in programs like those supported by my legislation guarantees that every community has an opportunity to participate in our thriving economies and that no Oakland resident is left behind. Please join me and call your Council Member and ask them to support this legislation and provide the necessary funding to keep our community working.
The legislation is scheduled to be heard at the Community Economic Development Committee (CEDA) on April 10, 2018 at City Hall.
Please call and email your councilmembers and let them know you want Oaklanders to be a part of the economic boom taking place in our city. Come to the City Council committee meeting and show your support.