Oakland's Housing Market Spikes, Prices May Be Rising Faster Than San Francisco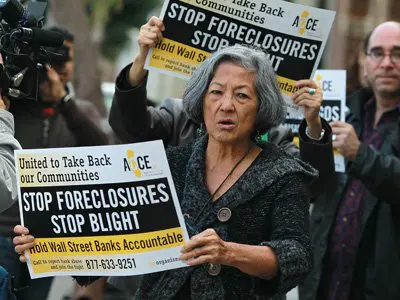 By Tulio Ospina
Oakland's housing market continues to skyrocket, making the city one of the fastest-moving housing markets in the country, according to a new city report.
The report finds that rent prices in Oakland increased dramatically over the last 18 months – about 22 percent higher than in April 2014, pointing to growth that may be outpacing San Francisco's market, according to the city's Quarterly Report on Foreclosure Issues presented Tuesday at the City Council Community and Economic Development (CED) committee meeting.
Home sales prices in Oakland have also escalated by 17 percent in the past year – the median home price is now at $507,750.
According to the report, the city's growing housing market is being fueled by "an influx of international capital," and homebuyers who have been priced out of San Francisco continue to find Oakland attractive as a more affordable alternative.
"Real folks can't buy a house around here," says Anya Svanoe, lead organizer at Alliance of Californians for Community Empowerment (ACCE). "Speculator activity is high in this area, and they're the reason prices are going up so rapidly.
"So if I go to an auction to buy a home," she claims, "I'm going to find there are a ton of big developers with cash on hand who are going to outbid any regular person."
Meanwhile, foreclosure rates have continued to decline over the past few years since 2012 when foreclosed homes were being auctioned at an average of 98 homes per month.
Over the past three months, the average fell to 20 foreclosed homes sold per month. However, compared with several years ago, most of those who are losing their homes now are longtime homeowners, including elderly residents whose houses have been in their families for several generations, the report said.
Despite the decrease in Oakland's foreclosure rates this quarter, there were 160 new notices of default, 12 of which were short sold.
ACCE has joined a coalition of community organizations currently in the middle of a budget fight to allocate more funds to Oakland's Tenant Protection Ordinance so that two fulltime staff members can be hired to respond to landlord harassing behavior.
"The ordinance right now has no teeth for tenant protection," said Svanoe, "There is currently no staffing if anybody calls in with violation complaints. We're fighting to get more money to support the ordinance so that Oakland can quickly act when tenants need it."