Oakland Youth Make Their Voices Heard on Police Reform
Posted in Education/Schools/Youth, Police-Public Safety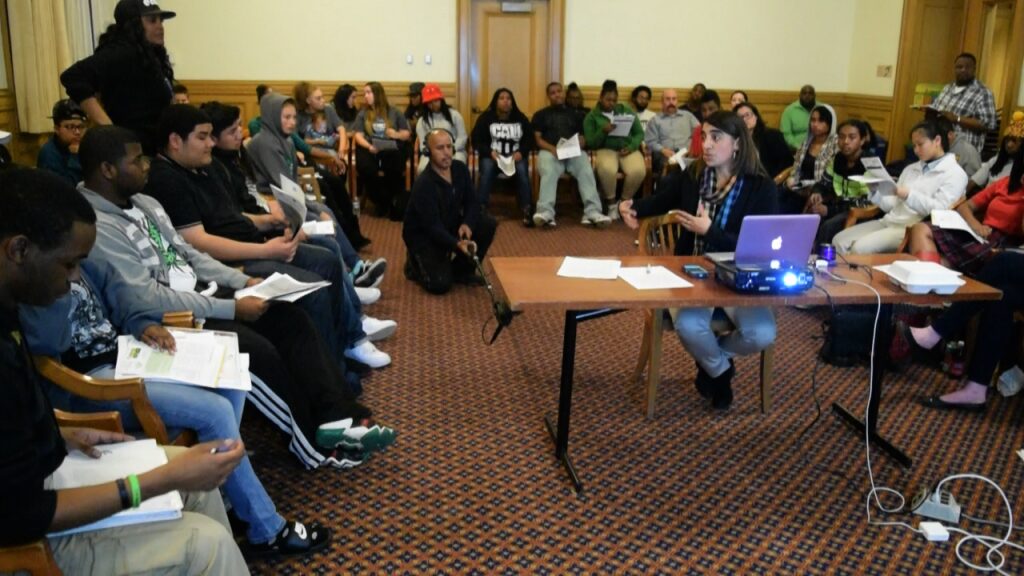 By Tulio Ospina
The City of Oakland's Youth Advisory Commission, which serves as a liaison between local policymakers and young people, recently released its recommendations on improving relations between local law enforcement, the communities they police and the city's youth.
Several young people presented the recommendations at last week's Public Safety Committee meeting, advising councilmembers about issues the impact their lives.
The Youth Commission brought together nearly 75 participants between the ages of 13 to 21 from many community-based organizations. The young people discussed what steps can be taken to ensure the welfare of their communities.
"We asked each of the groups to come with five recommendations ready, and then the entire assembly chose their top five," said Chantal Reynolds, a member of the commission's staff.
"Now they're having those conversations with city officials, and some of the youth met with the Chief of Police and went through the recommendations with him," she said.
Brooklyn Williams, a youth leadership advocate who helped convene the youth meetings, said she was responding to absence of young people's voices in many hearings and decision-making meetings.
"What adults need to understand is that when you partner with youth, you automatically increase efficiency and maximize resources because they are our most valuable resources," said Williams.
Mack McGhee, who was a Student Voice Ambassador for Oakland Unified School District's All City Council at the time, was one of the students who spoke with Chief Sean Whent and presented at the Public Safety Committee.
"Before going through this process, I wouldn't have even spoken to a police officer unless there was no way around it, because of the way things are happening throughout the country," said McGhee.
"What the experience did was it re-humanized police officers for me but also taught me there's a lot that needs to change with law enforcement as a system," he said.
The top five recommendations selected by the youth were:
Create a committee to retrain law enforcement officers to use non-lethal force when subduing suspects. Also implement Youth Lead Trainings that would help teach officers about the culture and lives of Oakland's inhabitants;
De-militarize the Oakland Police Department (OPD). The report states that, "OPD should not use weapons used in war (e.g. tanks, military trucks, other military weaponry, etc.) against the residents and citizens of Oakland;"
Youth should be asked to serve on police hiring panels and committees;
The city should hold "Know Your Rights" trainings throughout Oakland for residents to understand the proper ways to "safely navigate encounters with law enforcement officers;"
Police officers should be required to live in the communities they patrol for a certain number of days per week, and law enforcement agencies should develop a more diversified police force.
According to the report, youth feel that law enforcement does not reflect the population it comes in contact with, and many officers are not from Oakland. Instead, they come to Oakland to police residents and then go home.
"This does not lead to vested interests in a community or sustained relationships with residents," says the report.
Some additional recommendations in the report include the establishment of a Youth Citizens' Review Board for all law enforcement agencies; eliminating paid leave when officers are suspended during investigations for misconduct and officer-involved shootings; a database to document the victims of officer-involved homicides and brutality; and a special prosecutor from outside the local system assigned to review all officer-involved shootings.
According to Williams, the youth groups had created the recommendations about a month before President Obama's Task Force—a team of experts researching policing— unveiled their own recommendations in the wake of the Ferguson protests.
What the Youth Commission saw was that most of the experts' proposals for improving relations between law enforcement and communities directly aligned with those that had been made by the team of young people.
"The level of brilliance of our Oakland youth is really inspiring," said Williams. "I'm hoping that more leaders and decision-makers have this awakening so that all of our departments eventually have their own youth panels and advisory councils."