Oakland Teachers Shut It Down
Teachers say: 'Get up. Get down. Oakland is a union town!'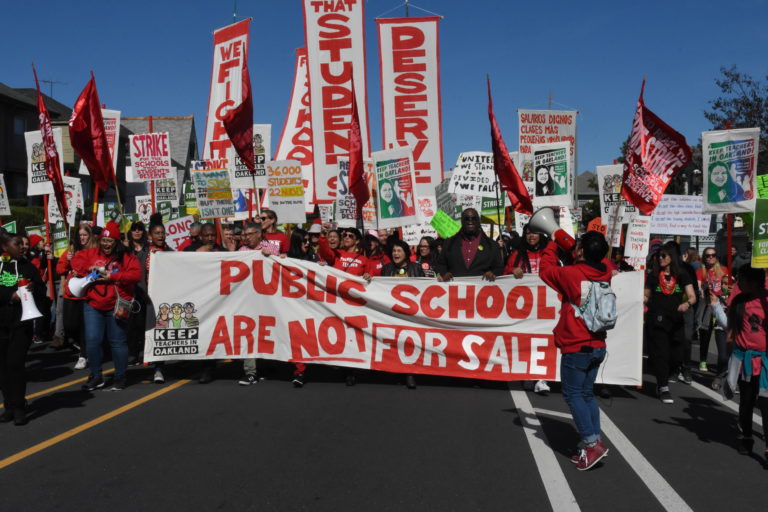 By Ken Epstein
Oakland teachers went on strike Thursday, Feb. 21 smaller class sizes, more support for students, a 12 percent wage increase and to halt to destructive school closures
"Bargaining with the district has not — in two years — produced an agreement that will pay teachers enough to allow them to stay in Oakland or make class sizes more conducive to teaching and learning or provide our students with the supports they need to thrive," OEA President Keith Brown said, speaking last Saturday at a press conference announcing the strike.
"The only option that Oakland teachers, parents and students have left to win the schools Oakland students truly deserve, and to take control of our school district back from the control of billionaire campaign donors, is for the 3,000 members of the Oakland Education Association to go on strike," Brown said.
The teachers' union, the Oakland Education Association (OEA), can legally strike any time after a neutral state-appointed fact-finder issued a report on Friday, Feb. 15. The report, which is nonbinding, does not go far enough, according to the union.
While the factfinder proposes a 6 percent raise, Oakland educators are seeking 12 percent over three years to help halt what they are calling a "teacher retention crisis." The report also supports hiring more counselors and reducing the student-to-counselor ratio from 600:1 to 500, while OEA had sought a 250:1 ratio.
"There is only one party in our bargaining with Oakland Unified School District that is pushing to improve our public schools for 36,000 Oakland students, and that is the Oakland Education Association," said Brown. "It is time for the Oakland school board and our superintendent to make a choice – are they on the side of the billionaires who fund their campaigns and are pushing for more draconian budget cuts and school closures that will further hurt our kids, or are they on the side of teachers, students, and parents fighting for the schools Oakland students deserve?"
Responding to the strike threat, OUSD issued a statement over the weekend. District Communications Director John Sasaki said, "We want it to be clear, the district has been and continues to be prepared with comprehensive solutions to address all issues and to reach an agreement," the statement said. "Furthermore, we believe the recommendations in the report provide ideas that will facilitate the parties reaching a fair contract and avoiding the harm a strike would cause our school communities."
OUSD is also saying that all schools will be open during the strike.
"Qualified OUSD central office employees and screened temporary teachers will join school principals and site staff to supervise, care for and educate OUSD students.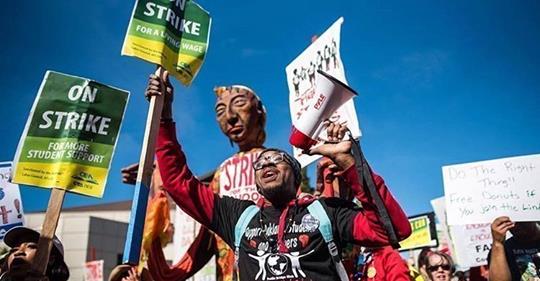 In an open letter to Oakland teachers, parents and students last Friday, Brown criticized school board members who were backed by billionaires for pushing a competition-based "portfolio" model for Oakland that "has led to a patchwork of privatization, school closures, and unimproved student outcomes in districts like New Orleans, Newark and Detroit."
The fact-finder's report is posted on the union's website: www.oaklandea.org. The full and comprehensive OEA presentation to the fact-finder – titled "Remedying Educational Malpractice," with extensive data supporting the union's positions – is also posted on the website.
Oakland educators have been working without a contract since July 2017 and are the lowest-paid in Alameda County.
The news conference announcing the strike can be viewed art https://www.facebook.com/OaklandEA/