Oakland Schools Considers New Parcel Tax
Posted in Education/Schools/Youth
By Post Staff
The Oakland Unified School District may become one of the first public school systems in the country to seek a parcel tax to pay for academy programs that prepare students for college and careers.
The district at present is studying the feasibility of the parcel tax. So far, officials are finding public support for a tax on the November ballot to pay to expand linked learning, which is what the district now calls school-to-career programs at its high schools
A parcel tax would require approval from two-thirds of voters.
"The health of the health of the district is very dependent on the quality of our high schools, which are low performing at this point," said Jumoke Hinton Hodge, school board member for District 3.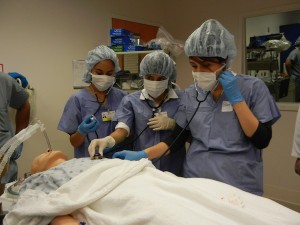 "If we want kids to stay in school, if we want them to back into our district, our high schools have got find better ways to support young people to go to college and explore career pathways for themselves," she said.
Added District 5 Boardmember Roseann Torres, "We're already doing some amazing things for students with Linked Learning in some part s of the district. It would make sense if we could do it across the city."
About 67 percent of polled voters said they would support a $150-a-year parcel tax to "ensure all students graduate high school prepared to succeed in college and careers," according to a voter survey commissioned by Oakland Community Organizations and the East Bay Asian Youth Center, two local organizations that advocate for the public schools.
Linked-learning programs, which have been around for decades under various titles, integrate academics with real-world work experience, such as internships and job shadowing, to keep students engaged in their studies and help them succeed after high school.
District officials say they want to expand career pathway and academy programs to its 9,200 high school students. This will help raise graduation rates and improve academic performance.
The district now runs 29 academies on 11 high school campuses, serving about 2,800 students a year.
According to official statistics, 25 percent of Oakland students dropped out of high school in 2011-12, though many studies indicate that the rate is considerably higher.
Some of the data show that students linked learning career academics make dramatic academic strides. According to the district, those who participate in existing programs have an 84 percent graduation rate, and 52 percent of them complete the courses required for university admission, compared with 31 percent of Oakland's students in traditional high school programs.
Turning academies into a district-wide program will cost an additional $13 million a year. Career academy programs generally cost $1,500 more per student than traditional high school programs.
Start-up costs will be higher, about $1,900 per student.
No dollar amount has been set for a potential parcel tax. An amount just under $100 would generate about $9 million or $10 million a year, according to the district. A parcel tax campaign would cost an estimated $200,000 to $300,000.
Hinton Hodges is hoping that a potential parcel tax would be expanded to support some other important programs, especially school libraries and outdoor science learning, including instructional farms.