Nurses Back Bernie Sanders for President
August 14, 2015
|
Last Updated September 22, 2021
|
|
Education/Schools/Youth, Elections & Voting Rights, Environment, Health, labor, Police Public Safety, Politics, Reentry/Formerly Incarcerated, voting rights
Posted in Economic Development, Education/Schools/Youth, Elections & Voting Rights, Environment, Health, Labor, Police-Public Safety, Politics, Reentry/Formerly Incarcerated, voting rights
Candidate calls for an end to racism and mass incarceration and for jobs and free education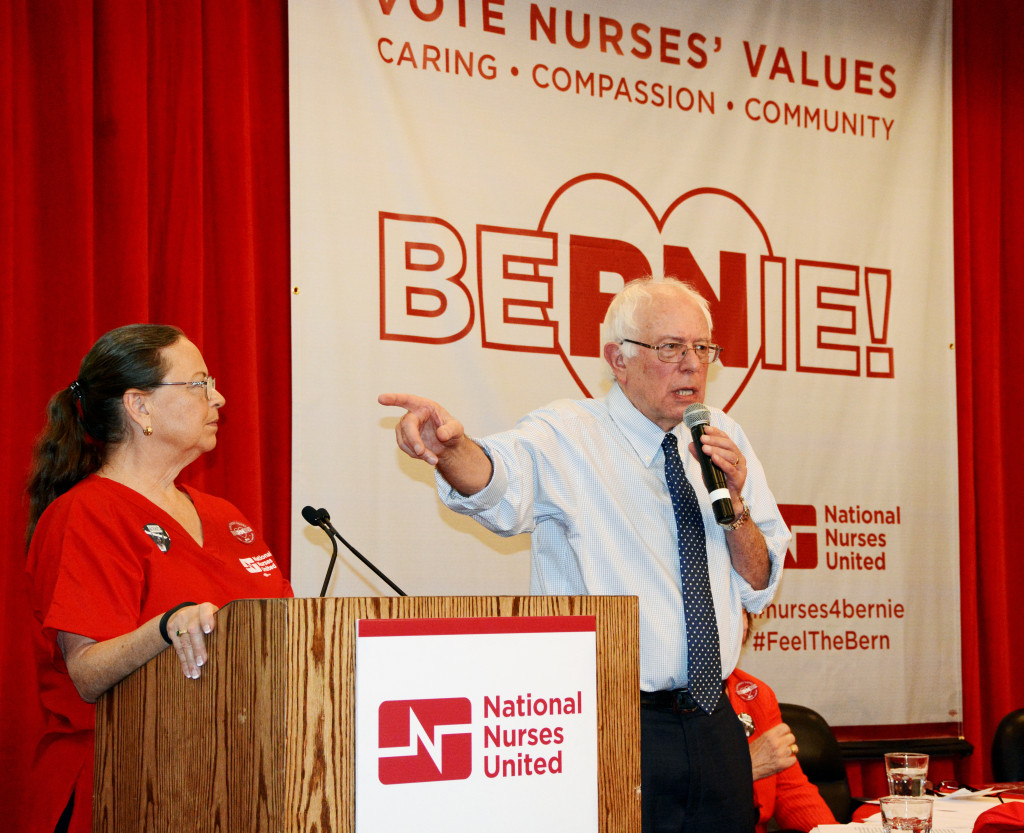 By Ken Epstein
Senator Bernie Sanders was in Oakland this week, where he won the endorsement of the 185,000-member National Nurses Union (NNU), adding serious momentum to his low-budget, grassroots campaign to win the Democratic presidential nomination that is becoming an ever more serious challenge to frontrunner Hillary Clinton.
Sanders spoke Monday to a wildly enthusiastic crowd at the downtown Oakland national headquarters of the NNU.
"I have spent my career fighting for something that I consider to be a human right. That human right is health care. And let me say loudly and clearly – health care is a right of all people, not a privilege," said Sanders.
"The time has come for us to end the international embarrassment of the United States of America, our great country, being the only major country on earth that does not guarantee healthcare to all people as a right," he said. "And together – with your help – we are going to end that embarrassment."
He called for raising taxes on bankers, financiers and corporations.
"Not only would a tax on Wall Street speculation provide us with the revenue that we need to make a college education tuition free, it would also reduce speculation and encourage Wall Street to invest in the job-creating productive economy," said Sanders.
As hundreds listened to and cheered his remarks in Oakland, groups of nurses around the country watched him live on television monitors and asked the candidate questions.
The union is composed mostly of women, registered nurses. Over the years, the organization has gained a reputation for tough and politically savvy organizing and has captured national attention in battles over the future of corporate healthcare and the inadequate medical industry response to the Ebola threat.
Sanders also denounced racism and mass incarceration and called for good paying jobs and free education at all public universities to allow people to enter the middle class – to end economic disparities.
Black Lives Matter and other activists have criticized Sanders for his lack of a program to end racial injustice, and he elaborated his position at the nurses' rally.
"When we talk about creating a new America, it is to end racism," he said, adding that Sandra Bland would not have been dragged out of her car and arrested in Texas if she had been white.
"Shamefully, the U.S. has more people in jail than any other country on earth," he said, and the rate of incarceration "is disproportionately higher for African Americans and Hispanics."
"We need a criminal justice justice system (in which) police departments do not look like military occupiers," he said. "We need police officers to wear cameras. When a police officer commits a crime, that officer must be held accountable."
"We need to end (mandatory) minimum sentencing for nonviolent crimes," he continued.
"When people go to jail, we need to provide a path back into society," said Sanders. "You're not going to have that when people leave jail without jobs, without education and in some cases, without the mental health counseling they need."
"If you check my record, there is no candidate running for president of the United States who will be stronger fighting institutional racism and in reforming a broken criminal justice system – period," he said.
Last Saturday, 15,000 people turned out to hear Sanders speak in Seattle. About 28,000 attended a rally Sunday in Portland, and 27,500 stood in a line that stretched for blocks to hear him speak Monday night at the Los Angeles Memorial Sports Arena.
RoseAnn DeMoro, executive director of NNU, explained why her union decided to endorse Sanders and throw the weight of thousands of the NNU's grassroots activists into his campaign.
"He says what he means, and that is reflected in his work," she said. "Nurses know Senator Sanders is a warrior."
In response to those who might have expected a union with a large number of women leaders to back Hillary Clinton for president, DeMoro said, "I'd love to break the glass ceiling, but we 'd love more to break the stranglehold of the billionaire class."