New Year, New Leadership, New Oakland?
January 10, 2019
|
Last Updated September 21, 2021
|
|
Affordable Housing, Economic Development, Equal Rights/Equity, Gentrification, Homelessness, Housing/Foreclosures, Libby Schaaf, Politics, Rebecca Kaplan, Responsive Government
Rebecca Kaplan unanimously elected City Council President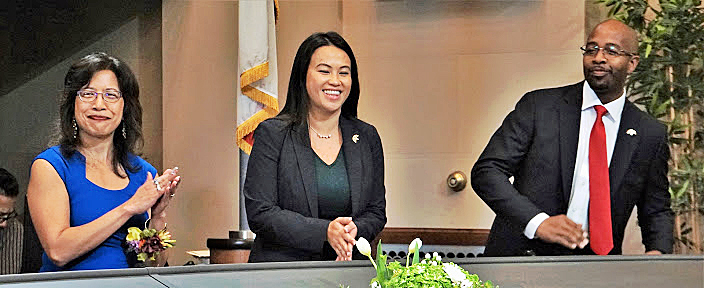 By Ken Epstein
Oakland honored its newly elected city leaders this week at a swearing-in ceremony held in the City Council Chambers of Oakland City Hall.
Sworn in were Mayor Libby Schaaf, who elected to a second term: Nikki For­tunato Bas, the city's first Filipina-American council member, representing Dis­trict 2. Sheng Thao, the first Hmong-American council member in the state of Cali­fornia, representing District 4; and Loren Taylor, a third generation Oakland resident, representing District 6.
Making the increased strength of local progres­sives, Councilmember-at- Large Rebecca Kaplan was unanimously elected council president by her colleagues. , The council's most powerful position, the president pre­sides over City Council meet­ings, influences the council's agenda and makes appoint­ments to council committees and some outside agencies.
Kaplan, the first openly LGBT+ Council President in Oakland's history, distanced herself from some of the city government's past practices, pledging that her leadership would be based on a commit­ment to social justice, inclu­sivity and working closely in coalition with the local com­munity.
"We must acknowledge injustice and prejudice exist and we need leaders to assure we work together to move our city forward," Kaplan said in a prepared statement.
"I believe in giving all Councilmembers the oppor­tunity to affect change, and all council members will have an opportunity to chair a commit­tee.," she said. "I look forward to working together in coalition with community to advance Oakland's vital needs."
e reor­ganizing council meetings so community members do not have to wait until past mid­night talk about major issues, strengthening the city's com­mitment to providing afford­able housing and to responding more effectively to homeless­ness and displacement of resi­dents, as well as providing ac­cess to job training and taking aggressive steps to reduce il­legal dumping.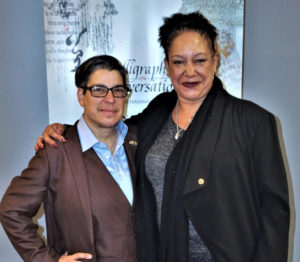 In her remarks after she was sworn-in, Councilmember Bas said laid out an agenda focused on "equity, inclusion and community participa­tion."
"More and more (working and middle class families) are feeling left out, feeling the impact of gentrification, rac­ism and income inequality," she said. "Decisions (will) not made for you but with you. These are all problems that we can solve together."
"We want developers and corporation that are part of our city but not to tear our city apart," said Bas, emphasizing that the Black community is "disproportionately impacted by homelessness, joblessness and over-policing."
Sheng Thao, a daughter of Hmong refugees, said, thanked Councilmember Ka­plan for hiring her as an intern as later as a staff member and her family and the community for backing her.
"I want to be a voice for those who don't have a voice, because I understand what that looks like," she said. "I under­stand what it looks like to have to work multiple different jobs just to make rent."
Acknowledging the efforts of outgoing District 6 Council­member Desley Brooks, Tay­lor said:
"I look forward to serving and delivering greater eco­nomic opportunity, especially for those who have been left out, underserved and under­represented in our communi­ty. We are fully committed to stopping the pushing out and pricing out of the residents of our city."
Mayor Schaaf, celebrating her 20 years in city govern­ment, said her priorities re­main the same.
She said, "We are ready to bring even more dramat­ic changes in the next four years," including "an even greater reduction" in homi­cides and violence, support for her favored nonprofit – Oak­land Promise, road repair "in the neighborhoods," as well as building more units of housing and increasing ways to make "headway on homelessness."
The council elected District 7 Councilmember Larry Reid to serve as vice mayor and Dis­trict 1 Councilmember Dan Kalb as mayor pro tem. Reid (a reappointment) and Taylor were picked to represent the city on the Oakland-Alameda County Coliseum Authority board of commissioners.