"Moratorium on Public Land Sales" Goes to CED Committee, Tuesday, June 26
June 24, 2018
|
Last Updated September 19, 2021
|
|
Uncategorized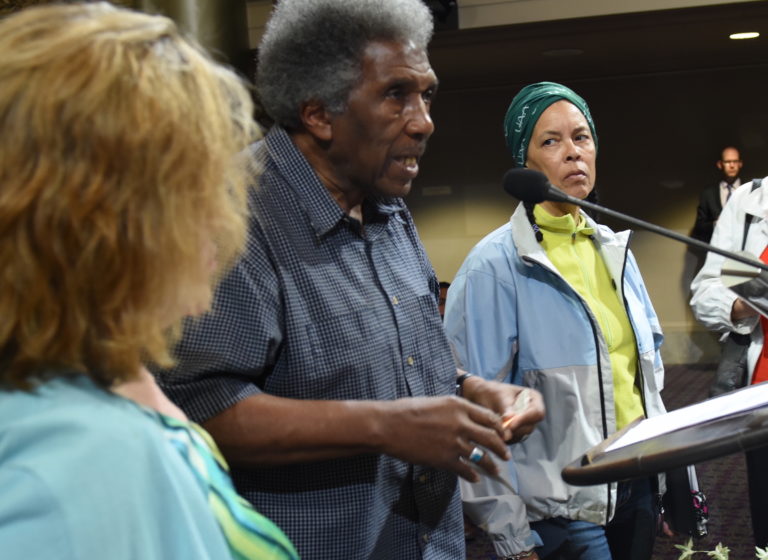 By Post Staff
The City Council's Community and Economic Development (CED) Committee will hear a community-initiated proposal for a Moratorium on Public Land Sales at the committee's next meeting, Tuesday, June 26, 1 p.m. in City Hall Hearing Room 1.
The moratorium originally was proposed at a Post Salon community assembly discussion on April 29 concerning the lack of a city policy to protect public land and utilize it for truly affordable housing.
With the assistance of Councilperson Rebecca Kaplan and her staff, the Salon's proposal to enact a "180-Day Moratorium of the Sale of Public Land Until the Council Adopts a Public Land Policy" was written as a resolution and placed on the CED Committee agenda.
Despite claiming to have a policy of protecting public lands, "the city has continued to sell valuable public property to private developers and corporations for expensive housing, luxury condominiums, corporate offices, and market-oriented development," said housing activist James Vann, a spokesman for the Post Salon.
Over the last two years, the city has received numerous complaints from the community that "public land should be used for public good," and lobbying from non-profit housing organizations that public land should be used for affordable housing to aid the city's critical affordable housing crisis.
Most recently, Mayor Libby Schaaf and the City Administrator have been pushing the city the sell a parcel of land in the Fruitvale District to private developer to build a charter school.