Mayoral Candidates Dispute Council on Garbage Contract
Posted in Army Base Jobs, Economic Development, Education/Schools/Youth, Elections & Voting Rights, Health, Labor, Oakland Job Programs, Oakland Talks Trash
Part 2
By Ashley Chambers
With Oakland's garbage conflict capturing public attention, a number of mayoral candidates are expressing discontent with the two-year process of how the City Council came to a 7-1 decision.
"The city government really messed up the process. They created a process where Waste Management was almost guaranteed to win," says Dan Siegel, civil rights attorney.
Last week, the Post interviewed mayoral candidates who hold public office – Mayor Jean Quan and Councilmembers Rebecca Kaplan and Libby Schaaf –who upheld the council's decision as democratic and transparent and called it the deal that will provide the best services and lowest rates for Oakland residents.
Siegel says he prefers CWS over Waste Management but adds that the Council "bought themselves a huge lawsuit and created incredible uncertainties to what's going to happen" through this process.
While Port Commissioner Bryan Parker says he supports investment in a local West Oakland business, he also criticized the contracting process.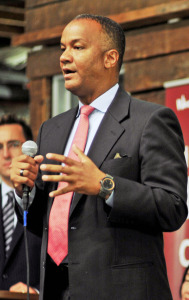 "I would have ensured that every concern – including whether a particular vendor had the capacity to provide services – was addressed before the contract was awarded," Parker says. "Then the lawsuit could have been avoided. We need better planning, better processes and less drama. We need real leadership to avoid these issues in the future."
City auditor Courtney Ruby has failed to comment on the heated trash debates. But mayoral candidate Joe Tuman, a professor at San Francisco State University, was willing to weigh in on the matter.
"I'm bothered by the fact that there has been misleading information," says Tuman, responding to the Waste Management referendum that seeks to disrupt the trash contract with CWS.
Dan Siegel
"The process was fair and to claim otherwise is just silly," he says, having personally witnessed paid signature gatherers make incorrect claims.
"City Council decided to award the contract differently than what city staff had recommended." However, he says, "that's just fine; we don't elect our City Council members to be rubber stamps, we elect them to exercise independent judgment."
While he believes in awarding the contract to the local company, Tuman criticized City Council for not being transparent about the franchise fee – $30 million – that the company awarded with the contract pays annually to the city, and would ultimately raise rates for consumers.
"The city knew full well that the winning vendor would pass that rate on to ratepayers…the money goes right back into the city's pockets," Tuman says. "Our city government should've been more honest about what that [franchise fee] was. It's reprehensible that the council and the Mayors office weren't more vocal and upfront about this."
CWS will build a new state-of-the-art facility at the Oakland Army Base and offer job opportunities for youth, local residents, and Waste Management workers. The new contract is scheduled to start July 1, 2015.