Local Volunteers Head for Central Valley to Overturn Republican Control of Congress
September 8, 2017
|
Last Updated September 20, 2021
|
|
Affordable Housing, Climate change, Economic Development, Education/Schools/Youth, Elections & Voting Rights, Equal Rights/Equity, Health, labor, Police Public Safety, Responsive Government, voting rights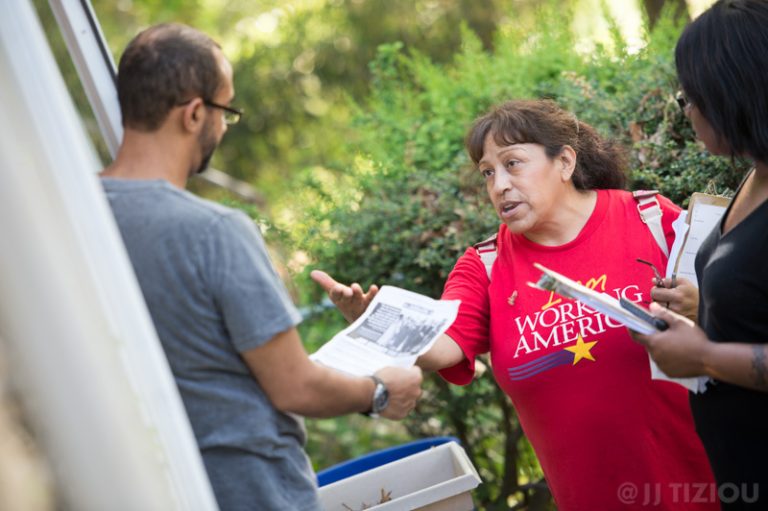 Volunteer canvassers for Working America go door to door to talk to residents about fundamental issues that affect them and their families.
By Ken Epstein
Volunteers from Oakland, Berkeley and other Bay Area cities, many who consider themselves to be part of The Resistance, are flocking to the AFL-CIO´s Working America and other organizations, ready to put in the grueling door-to-door work necessary to mobilize and empower voters to overturn Republican control of congressional districts in November 2018.
In the Bay Area, Working America began door-to-door outreach efforts in May in Congressional District (CD) 10, a section of northern San Joaquin Valley that includes Modesto, Turlock, Patterson, Tracy and Manteca.
CD 10 is currently represented by Republican Congressman Jeff Denham. However, this is not a district that is solidly in the Republican camp. Hillary Clinton carried it in 2016, and Barack Obama won the district in both 2008 and 2012.
The district is 46.4 percent white, 3.7 percent Black, 7.7 percent Asian and 40.1 percent Latino. The Modesto area has an 8 percent unemployment rate and a mean annual wage of $45,230.
Besides Working America, organizations that are working to flip CD 10 are Swing Left, the Democratic Club of Greater Tracy, California Democratic Party, California Away Team, Organizing for California, Our Revolution and Indivisible Berkeley.
Working America, which is pairing volunteers and paid organizers, is conducting a "knock on every door" in-depth canvassing operation.
People who oppose Trump and conservative members of Congress "now need to 'electoralize' that energy," said Matt Morrison, executive director of Working America, based in Wash., D.C.
"You can't change hearts and minds by sending people 500 pieces of mail or with 30-second campaign ads," he said. "You have to see them and talk to them face to face, going into 2018 and 2020."
Working America's paid staff are mostly working-class people, who are trained and work 40 hours a week as professional canvassers.
These professionals, especially in Modesto, work with volunteers, who are also trained.
"It's been stunning, the number of people who are willing to invest themselves in this fight," said Morrison.
Over 200 people already have gone through training, and nearly 150 have gone to canvas door to door, he said. Some have come back to the Central Valley, an over 80-mile trek from the East Bay, for a second or third shift.
The plan at this point is not to talk about upcoming elections and candidates but about the issues that people care about and help them connect with others in their community in networks to build "strength in numbers," said Morrison.
"Our organizing model has to focus on working class communities around the country," based on union ideals of "economic justice and dignity," he said.
"Once you get people talking," he said, "they don't want to stop." They are worried bout increased rates of poverty and are losing faith in government's willingness to improve their communities.
"We think it is essential to have folks advocate for themselves," he said. "What we're seeing are a lot of constituents who are pretty animated, willing to show where they stand."
About 4,700 people already have joined Working America since the canvassing began.
"We project that later this year we will organize about 25,000 people in this district, based on the issues," said Morrison.
Cindy Reed, a Working America District 10 field director, is based in Modesto where she is involved in discussions every day about what is important to people in the Central Valley.
"We focus on economic issues that are important for working families: jobs, corporate accountability, access to education and retirement," said Reed.
"Politicians are not really addressing these issues," she said. "The solution is to keep them accountable. The strategy is strength in numbers: a call of to action, writing a letter or signing a petition."
"There are a lot of jobs in Modesto and the Central Valley, but they are not high paying jobs," she continued. "(Workers) have to commute for construction – even engineers have to commute to Silicon Valley because they can't afford to live there."
"They don't the have resources for their public schools, and they can't afford to send their kids to college."
One of the crew of recent volunteers was Carla, a member of the Wellstone Democratic Renewal Club in the East Bay.
"We knocked on 25 doors and had conversations at 13 of them." she said, describing her experience in a Wellstone newsletter.
"Ten people joined Working America, and all 10 signed the action item petition against (Congressman) Jeff Denham," she said. "(We) were uplifted, and the people were warm and welcoming."
For information and to sign up for Working America's Central Valley Project training and canvassing, go to http://www.workingamerica.org/centralvalley/volunteer