"Let Our People Come Out of the Shadows"
Posted in Education/Schools/Youth, Equal Rights/Equity, Immigrant Rights
President will extend legal status to five million undocuented immigrants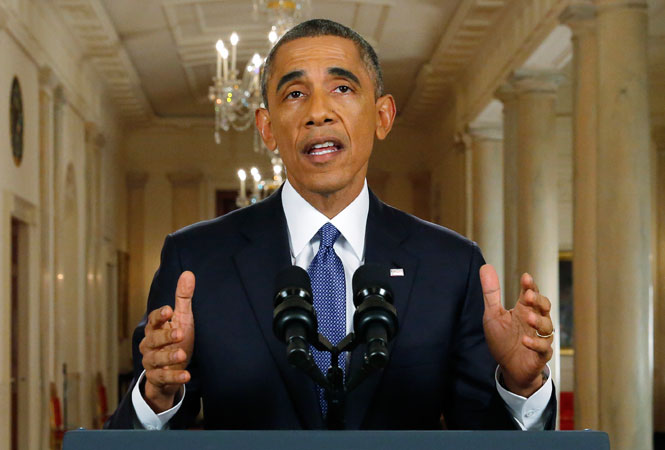 By Post Staff
In a rare primetime nationally televised address, President Obama Thursday evening announced the most sweeping executive action on immigration in decades.
The president will circumvent Congress, extend legal status to millions of undocumented immigrants, increase numbers of visas for valuable high-skilled workers and strengthen security along the Southwest border.
"Our immigration system has been broken for decades, and every minute we fail to act, millions of people who live in the shadows but want to play by the rules and pay taxes have no way to live right by the law and contribute to our country," Obama said in a video posted to Facebook.
According to the White House, Obama will "maximize the use of his authority" to extend temporary legal status to more than 5 million undocumented immigrants.
The president will legalize the status of 4.1 million parents and families of U.S. citizens who have been in country more than five years with no criminal record.
The executive memoranda will also bring relief to 300,000 undocumented immigrants who came to the U.S. illegally as children, so-called Dreamers, and will become eligible for the Deferred Action for Childhood Arrivals (DACA) program. Current age limits for the program will be dropped, sources say.
Oakland Councilmember Noel Gallo, who represents the Fruitvale District in East Oakland, thanked President Obama for his steps to legalize immigrants."
"We have a ways to go to complete solve our immigration problem, but that is something that will require joint efforts of the president and Congress," said Gallo.
"On my street and in my neighborhood, people are arriving daily," he said. "We as a country need to solve the immigration issue so we can welcome them, and they can work productively."
Councilmember Lynette McElhaney also praised Obama's action.
"It's about time," she said. "This is the most compassionate, sensible and practical thing the president can do it."
Too many families have been ripped apart by deportations, McElhaney said. "The president is taking a humanitarian step, and it is welcome news to people in Oakland. Now is time for Congress to act."
Mayor Jean Quan on Thursday invited community members to join her to watch and discuss the president's announcement. "Our city has long prided itself on its reputation for diversity and inclusion, and our immigrant communities are an integral part of Oakland's fabric," Quan said.
Congresswoman Barbara Lee said the president's action is "in line with our nation's interest and character, namely, compassion, economic growth and keeping families together. We must never forget that we are and will always be a nation of immigrants."
"I continue to urge the Republican leadership of the House to call a vote and pass comprehensive immigration reform," Lee said.