Legislature Should Cancel the School District's $40 Million Debt, Says Senator Skinner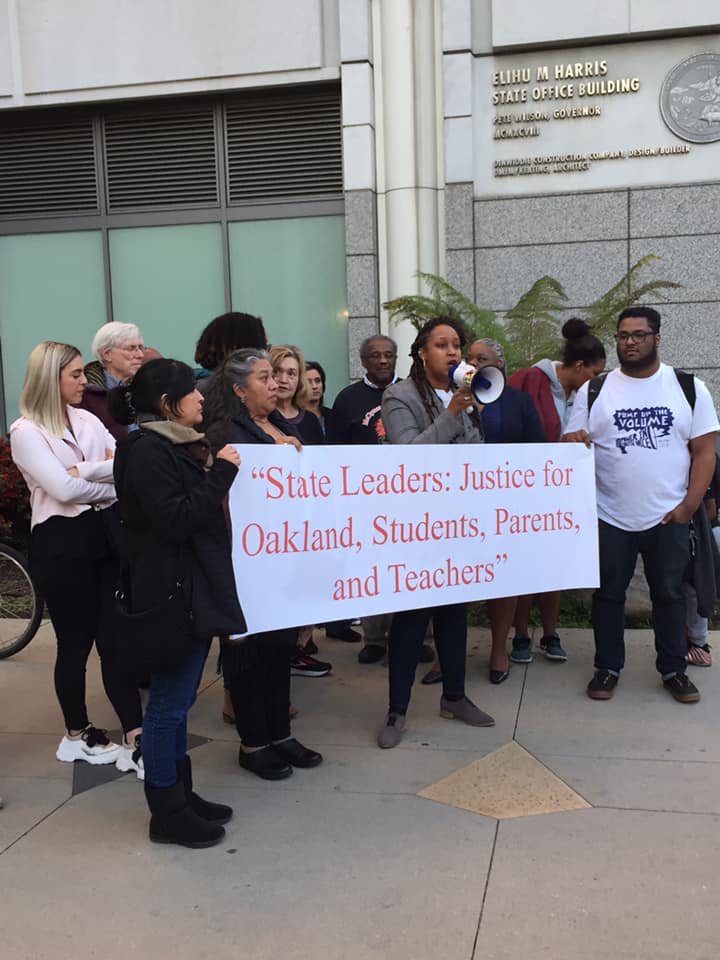 By Ken EpsteinA growing number of Oaklanders—joined by Senator Nancy Skinner—are calling on the State of California to cancel the balance of the $100 million loan that the state forced on the Oakland Unified School District in 2003 and then spent through a state receiver, with no democratic input from the local community.
The district still owes somewhat less than $40 million on the loan, making annual payments of $6 million a year until 2026.
Speaking at a meeting last week of the Wellstone Democratic Club, Senator Nancy Skinner said she would support a measure to forgive the remainder of the district's state debt. "I support eliminating that debt, especially given that it (was spent) under state receivership (when) there were five different superintendents, all appointed by the state. They racked up a huge debt, and then Oakland was supposed to pay it back at 8 percent (interest)—that's usury," said Skinner.
Over 1,500 people have signed a petition calling on Oakland's local representatives to work to abolish the debt.
"We call on the OUSD administration along with California politicians Gavin Newsom, Rob Bonta, Nancy Skinner, and Tony Thurmond to take immediate steps toward waiving/abolishing OUSD's debt and fully fund OEA's reasonable contract proposal," the petition said, which is available at Change.org at https://bit.ly/2VCKz1W.
Supporting the community demand, Council President Rebecca Kaplan wrote a letter on Feb. 14 to Gov. Gavin Newsom: "In light of an estimated $21.5 billion surplus in the State budget, … relief from the repayment process would afford OUSD the opportunity to truly create a culture of long-term solvency," wrote Kaplan.
A group of OUSD principals recently sent a delegation to Sacramento asking the legislators to support Oakland's demand for loan forgiveness.
In interviews with the Oakland Post this week, Assemblymember Bonta said he has supported loan forgiveness for six years and he will continue to do so. However, he has not introduced a bill because it would be unlikely to gain support in the Democrat-controlled Legislature.
"There is no appetite in Sacramento for that, even though we have a new governor," he said.
Politics is the art of the of the possible, he continued. "We tried numerous times for debt forgiveness, but it was not possible."
Bonta said the best bet for OUSD to restore its financial wellbeing is through AB 1840 – to take the money authorized law and adopt austerity measures that will stabilize the district's finances. He said 1840 does not require closing schools and selling school property but allows the district to cut central office overspending and sell school property to build affordable housing, a "win-win for everybody."
He did not comment on how the law is being applied in real life by the district leadership and state representatives, including the Fiscal Crisis Management and Assistance Team (FCMAT), which are guiding the cuts: closing 24 schools, including closing Roots International Academy and dispersing its students, as well as cutting Restorative Justice and other programs designed to develop student leadership and laying off over 100 non-teaching employees.
Agreeing that debt forgiveness faces serious opposition, School Board President Aimee Eng said, "The board and the district have sought support for loan deferral and relief, on and off for years.
"There has been no indication (as recently as conservations last week with State Supt. Of Instruction Tony Thurmond) that there is any appetite (in the Legislature) for forgiving all outstanding debt by districts statewide."
By the Oakland Post's deadline, Supt. Thurmond did not reply to a request for comment.