Kaplan Jumps into Mayoral Race
Posted in Elections & Voting Rights
By Ken Epstein
Ending months of speculation, Councilmember-at-Large Rebecca Kaplan has joined the crowded field of candidates running to replace Jean Quan as mayor of Oakland.
With most polls showing her at the head of the pack, she broke the news of her candidacy Wednesday on nightly television news and on Facebook.
"Oakland isn't ungovernable, just ungoverned," she wrote on Facebook. "I'm running to provide strong, stable leadership. For safe neighborhoods. For local jobs. For a fresh start for our city."
She held her official kickoff press conference Thursday afternoon at the corner of 92nd Avenue and International Boulevard, which was strewn with trash and where a dead dog recently remained on the sidewalk for a week before it was picked up by the city.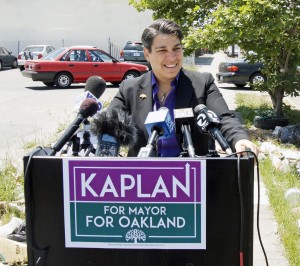 "We must take action to make sure that everyone in Oakland has their basic needs met," she said, pledging to make sure that trash and illegal dumping are cleaned up and police respond to 911 calls, as well as to work to bring 30,000 new jobs to the city.
She decided to run, said Kaplan, because she has been frustrated to have the City Council pass legislation to improve the city, only to have the mayor fail to implement the measures.
Besides the mayor, Kaplan faces a number of candidates who are already campaigning hard, including Councilmmember Libby Schaaf, Attorney Dan Siegel, Port Commissioner Bryan Parker, Joe Tuman and Jason "Shake" Anderson.