If City College Shuts Down, What Will San Francisco Lose?
Posted in SF City College
By Helena Worthen and Joe Berry
The Accrediting Commission of Community and Junior Colleges (ACCJC) has made a decision that could result in shutting down City College of San Francisco in July 2014 by withdrawing accreditation, which would mean a loss of access to public funding.
The college has been working with the accrediting commission but has not succeeded in meeting the commission's requirements.
If City College shuts down, what does San Francisco lose?
Students: Over 100,000 students typically attend City College at centers all over the city. Since the controversy over accreditation started in July 2012, enrollment has dropped to 85,000.
If the college closes, these and other potential students will have no good alternatives.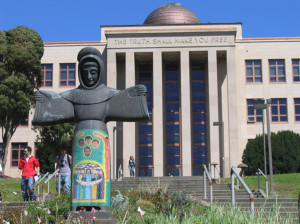 The San Mateo Community College District (Skyline, College of San Mateo and Canada) is already at capacity, and there is no good public transportation to the campuses. The Peralta District is across the Bay.
Affordable higher education: The cost per credit at City College is $46. The cost per credit at private colleges is many times that. Currently, City College students graduate burdened with minimal debt.
Employees: Over 1,600 faculty work at City College. About 758 of these faculty jobs are good, full-time jobs with benefits. The 827 members of the faculty who are part-time can also earn enough to live on, have access to health benefits and some job security, which results in much less turnover than at most colleges.
Both full-time and part-time faculty are represented by a union, AFT 2121, and have a contract that is among the best in the nation. Over 1,800 taff and administrators work at City College.
While some of these are management jobs, the majority are decent working-class jobs.
Staff at City College is represented by SEIU 1021. If City College is shut down, nearly 3,000 jobs will be lost.
An educated citizenry: City College has historically served the broad mission of community colleges. It offers over 50 educational programs that lead to transfer to universities and over 100 career technical programs, ranging from website development to infant care to culinary arts.
CCSF also offers free adult education classes at locations throughout the city in English and Spanish. These include GED prep, ESL, citizenship classes, yoga, local history and basic computing. City College can take some credit for San Francisco's creative, dynamic and progressive activist culture.
Employers: Graduates of the career technical programs in fire, police, emergency services, healthcare, construction, business, technology and over 100 other programs provide the staff for public and private workplaces throughout the city.
Of the students who completed a CCSF career technical program, 42 percent found jobs, and 74 percent of those found their job within 6 months of graduating. If City College is shut down, employers will have to recruit outside the city.
Diversity: The students at City College reflect the diversity of the city. Nearly half are between 25 and 49 years old. They are 29 percent Asian, 26 percent White, 20 percent Hispanic, 9 percent African American, 6 percent Filipino and 8 percent of mixed or unknown race.
Minorities do well at City College: of the African American students who came prepared for college level work, 82 percent completed a degree.
Figures on those who came "unprepared" for college work, meaning requiring them to take remedial classes, reveal success at an even tougher challenge: 35 percent of African Americans, 36 percent of Hispanics, 47 percent of white and 71 percent of Asians who came to college despite being "unprepared" managed to stick with it and complete a degree.
This is not only a greater challenge for students; it is a greater challenge for teachers. Providing a ladder to achievement for underprepared students is at the heart of the community college mission.
Services for Veterans, Health services: Among its many special outreach programs is the Veterans Services Office, providing help with GI benefits, career planning, retraining and psychological assistance. The student health service offers emergency care, mental health, preventive care and special women's health outreach.
Legacy: City College was established in 1935 in the heart of the Great Depression to answer a need for education. Until 1971, it was part of the San Francisco Unified School District.
Generations of students, faculty and administration have poured their careers and lives into building a school that belongs to and reflects the city. Their free gift of support and loyalty is at risk if City College is shut down.
Hope: For most people, education is the path of hope. If City College shuts down, hope will be destroyed for many youth, which can only lead to more drug use, crime and other self and socially destructive behaviors at just the time when the next generation is needed to pick up the mantle of leadership.
Helena Worthen is Professor Emerita of Labor and Employment Relations, University of Illinois, and long-time community college English teacher and union activist. Joe Berry is a retired City College teacher (History and Labor Studies), union leader and researcher on higher education and its workforce. They can be reached at [email protected].