Growing Bay Area Movement Calls for End to Mass Incarceration
Posted in Community, Education/Schools/Youth, Equal Rights/Equity, Police-Public Safety, Reentry/Formerly Incarcerated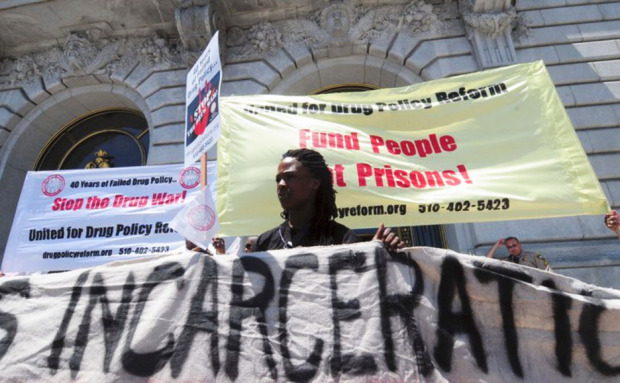 By Ashley Chambers
A daylong summit to discuss ways to work to end mass incarceration and implement restorative justice was held recently in Oakland.
The summit, called "Fruitvale, Florida, Ferguson and Beyond," was held Nov. 15 at Laney College, featuring a day of workshops about police violence, the criminalization of Black and Brown youth and immigrants, how to keep your children out of jail, knowing your rights, and ways to work to hold the criminal justice system accountable.
The event was sponsored by Oakland Parents Together, the Ella Baker Center, Laney College Ethnic Studies Department, Youth Together, PUEBLO, Black Organizing Project, Just Cause, Love Not Blood Campaign, Black Alliance for Just Immigration, Fellowship of Reconciliation, School Board members Jumoke Hinton Hodge and Rosie Torres and others.
One workshop, "From Oakland to Ferguson: Will the revolution be televised," used the film "Fruitvale Station," as a starting point. The movie tells the story of Oscar Grant the day before he was killed by BART police officer Johannes Mehserle in Oakland.
Led by Cephus "Uncle Bobby" Johnson, Beatrice X Jackson, and Dr. Tony Jackson with the Love Not Blood Campaign, the workshop encouraged people to understand their constitutional rights and record any act by the police that violates someone's rights.
The summit was sparked by a panel discussion featuring Laney College professor of African American Studies La'Cole Martin, who teaches her students about the historical context of mass incarceration.
"This isn't the first time we've seen a boom in mass incarceration. This dates back to the convict leasing system," said Martin, an alumna of McClymonds High School and UC Berkeley.
"Seeing how in general people of color have been targeted by this system and how there's a lot of folks who actually gain profit off of our victimization…Being able to make those connections for young people has been very important for me," she said.
"Most people, when we learn that history, it only, in some ways, infuriates us more, but what do we do with that anger and that frustration? How do we channel it?" Asked Martin.
Another workshop led by the Ella Baker Center talked about how youth and their parents can get involved in justice reinvestment. Through their "50 percent for Jobs Not Jails, Books Not Bars, Healthcare Not Handcuffs" campaign, they are seeking political action to reinvest money from the prison system to fund more programs and services in the community.
California spends $30-40,000 on prisons and only $11,000 per student in the public schools. Currently, there are 2.2 million Americans in prison or jail, according to reports.
"We want people to take away from this a connection to the movement and to the struggle against mass criminalization," said Henry Hitz, executive director of Oakland Parents Together.
Building on this summit, an even larger conference is planned for next spring.