Darlene Lawson, 75, A Champion for Equal Education
Posted in Education/Schools/Youth
By Ken A. Epstein
Businesswoman Darlene Ann Lawson-Scott, 75, who left a lasting impact on Oakland schools during two terms on the Board of Education, died on Jan 13. A fighter for equal education for flatland children and families, she was the first African American woman to be elected to the school board.
Known as Darlene Lawson when she ran and won a seat in District 5, she served on the board from July 1983 thru January 1993. She was selected by fellow board members to serve as board president in 1985 and 1987.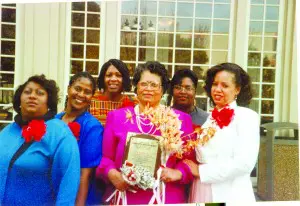 As a parent, she started going to PTA meetings where "She learned that the hill schools were getting more resources than flatland schools. That's why she ran for office – she wanted to be an advocate for flatland parent s and children," said Lawson's daughter Loretta Little.
In one campaign brochure, written in Spanish and English, she described herself as "Someone who will not sell out." She said she supported classroom curriculum that shows "an appreciation of the richness of the cultural difference and similarities of our children."
She also backed: "No schools closings;" "A program in teacher training for prospective Latino, African-American and Asian teachers;" and "school safety with parental involvement."
On the board, Lawson developed committees so members could make informed decisions on finances, budget, disciplinary hearings and facilities. Years later, the state trustee who was assigned to Oakland disbanded the committees."Without committees, the board has no way of doing anything but rubberstamp" staff decisions, said Sylvester Hodges, who served with Lawson on the board. He represented District 7.
The disciplinary committee reviewed expulsions to make sure youngsters – who may have done something wrong and childish – were not needlessly kicked out of school, destroying their futures.
Darlene showed she was a leader in her personal and her political life," said Hodges. "She had many different sides to who she was. She brought people together as a family," he said.
Lawson made waves when she focused on unequal funding to schools in the richer and poorer areas of the city, Hodges said. "We were very disappointed with the difference in funding allocations between flatlands and the hills. Darlene was quick to point that out, and people didn't like that."
Lawson and other members of the board's African American majority faced a "public lynching," during those years, Hodges said. "Despite the barrage of attacks from the press and officials, he said, "She did not back down because she was being attacked. She was brave."
Oakland education leader and professor Kitty Kelly Epstein also remembered Lawson as someone who stood up for Oakland children. "Darlene was one of the first elected officials in Oakland to conscientiously advocate for flatlands residents," Epstein said. "She was an effective parent advocate before she ran for school board, and she courageously stood up against the 'old-boy' and 'old-girl' network that thought they should continue to run Oakland politics."
Lawson was born April 20, 1937 in St. Louis, Missouri, the daughter of Richard Woods Sr. and Leoma Woods-Dixon. A "PK" or Preacher's Kid, she had a very strict upbringing.
The oldest of nine children, she was took care of her siblings and other family members when their parents and grandparents passed away.
At her early age she joined the African Apostle Methodist Church. She graduated in 1955 from Douglas High School and received an AA degree in business from St. Louis Community College. Her first job was at a fast food restaurant. She also worked in nursing and served as a Girl Scout leader and swim coach.
Even after she relocated to California, she was quick to travel back to St. Louis whenever a family member needed her.
After leaving the school board, she earned a real estate license. She helped youth find jobs and worked through the City of Oakland to help women on welfare become first-time homeowners.
Lawson married David Scott in 1990. A successful entrepreneur, she was a daycare provider, real estate broker and owned and several businesses, including nightclubs.
She also found time to co-author a two-volume book on her family's history, "Genealogy of a Family Before and After Slavery," conducting research at plantations and locating ancestors who had worked on the railroads.
She spent her last years at a convalescent home in Alameda. Though ill, she advocated for the rights of the elderly and disabled and served on the board of the home.
Lawson was preceded in death by her parents, her brothers Ronald P. Dixon and Robert E. Woods and a sister, Carol McDuffie (McDaniel).
She leaves her husband of 23 years, Dave Scott, sons David Scott Jr. and Keith Lawson and daughters Charlene Byrd, Loretta Little, Vida Byrd, Billie Jo Wright and Annette Wright.
She also leaves brothers Richard Woods, Jack Woods and Byron Dixon, sisters Marieda Woods (Irons) and Betty Booth: and 12 grand children; and many "god-children" who had adopted into her heart over the years.