Councilmember Rebecca Kaplan Endorses Cat Brooks
June 15, 2018
|
Last Updated September 20, 2021
|
|
Affordable Housing, Community, Economic Development, Education/Schools/Youth, Elections & Voting Rights, Elections 2018, Gentrification, Homelessness, Housing/Foreclosures, Illegal dumping, Libby Schaaf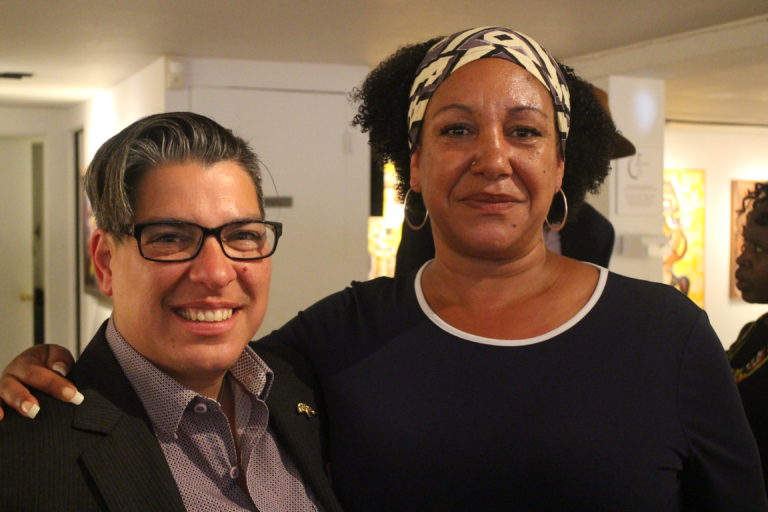 By Ken Epstein
City Councilmember-at-Large Rebecca Kaplan, one of Oakland's most popular progressive political leaders, ended months of speculation about whether she would jump into the mayoral race when she announced last Thursday that she is committing her energy to elect community activist, actor and radio journalist Cat Brooks as mayor of Oakland.
"With a lot of thought and prayer and contemplation" of the social justice issues facing Oakland, "I have come to the conclusion that the best way to strengthen our community's voice (for our) vital goals is by endorsing and supporting Cat Brooks for mayor," said Kaplan, speaking at an event held at the Joyce Gordon Gallery in downtown Oakland.
"We will continue to build and move forward together," she said. "We have an opportunity to strengthen our solidarity, to strengthen our city and to make sure we have a city hall that is responsive to the community."
Kaplan focused on some of the major social and moral challenges the city is facing that she says are being ignored by Mayor Libby Schaaf.
"We deserve leadership that believes in respect and that believes in justice and understands that we are judged by how we treat the least of these," she said.
"Every additional person who is homeless should be a heartbreak to all of us and a call to action and a demand to do something about it," said Kaplan.
She also spoke about what she considers Mayor Schaaf's failure to punish police who participated in and covered up the Oakland Police Department's sex abuse scandal.
"The level of police misconduct that has been tolerated is totally unacceptable," she said, accusing the mayor of intervening to hide OPD officers' "brutal sexual misconduct," promoting those who covered it up and punishing those who spoke against it.
A rabbi, Kaplan said a prayer for Brooks' campaign:
"I pray that you may be protected and strengthened in this incredible journey and that I may be blessed to have the opportunity to work together with you…May your voice be strong, may you be heard."
Thanking Kaplan and assembled supporters, Brooks invited everyone to "support a vision of justice, a vision of transformation, a vision of mobilizing our people to the polls to take back our city."
Rather than having to fight City Hall every day, "What if we spent all of our time building the kind of Oakland we want to live in?" she asked.
She said the city should be working to build housing so teachers and low-paid nonprofit employees can afford to live in Oakland.
"It can be done, and if the current administration had the will to do it, it would be done," said Brooks.
Saying that this is not "a Cat Brooks campaign," she emphasized that she would hold "people's assemblies" or town hall meetings during the next two months for input of community people who are struggling to improve conditions and are knowledgeable about the issues.
"There's amazing work that's being done on a range of issues, and those will be the voices that determine the direction of this city," said Brooks. "There are so many brilliant, beautiful ideas that are being ignored by City Hall."
For more information, go to www.catbrooksforoakland.com/ and www.kaplanforoakland.com/