Council Members Kill Police Accountability Measure
Posted in Community, Equal Rights/Equity, Police-Public Safety, Politics
By Ken A. Epstein
A push by a community coalition asking the Oakland City Council to put a police accountability commission measure on the November ballot was always a long shot.
As a result, members of the coalition were disappointed but not discouraged this week when the measure died at the council's Public Safety Committee, supported only by the committee's chairperson, District 5 Councilmember Noel Gallo.
"This is a World Series, and that was only game one," said Rashidah Grinage, executive director of People United for a Better Life in Oakland (PUEBLO) and a leader of the community coalition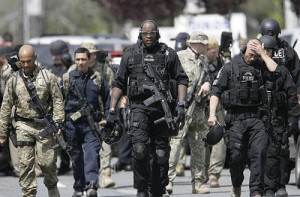 Coalition groups, according to Grinage, always knew that resistance from the police union and some members of the council meant that a petition drive to put a charter amendment on the ballot in 2016 was more likely to be successful.
But they decided to try the shorter route because two years is a long time to wait for police reform, and OPD backsliding may become an issue when federal court oversight ends in the near future.
What makes a police accountability commission so crucial, say its supporters, is the proven failure of the city to hold officers accountable for serious offenses against local citizens.
These failures have cost Oakland more than $58 million in police misconduct civil awards in the past decade. Further, OPD has remained under federal court control for more than 11 years, though compliance with the requirement that the department institute constitutional policing practices was supposed to be achieved within five years.
The accountability measure proposes to create a commission, made up of residents appointed by the mayor and council members, which would take over the City Administrator's authority to oversee OPD.
According to the measure's backers, Oakland's consistent failure to punish police misconduct can be traced to the City Administrator s overly cozy relationship with the police department and a resulting unwillingness to initiate or uphold discipline against individual officers.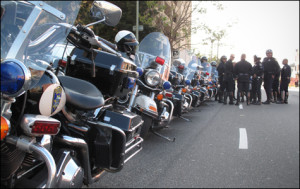 Speaking at the Public Safety meeting, Councilmembers Libby Schaaf and Lynette McElhaney said the council needs more time to consider and revise the measure before sending it to the ballot.
McElhaney said she was working hard to develop and pass a measure in November that will be the successor to Measure Y, the $22 million public safety tax that funds over 50 police officers and a number of youth programs.
"This (police measure) requires the same kind of diligence," McElhaney said. "I think we owe that to everyone. There are things to that need to be considered. There are numerous questions."
If people rush ahead without sufficient deliberation, the results can be disappointing, she said. "We (may) think that we're going to fix something… and it ends up being heartbreaking."
"I'm not prepared to move this up to the council," said Schaaf. "Far too many questions have been raised."
She said she would like the measure to be discussed again by Public Safety, "perhaps in the fall."
Dan Kalb said he supports the idea of citizen oversight of the police, but "the devil is in the details."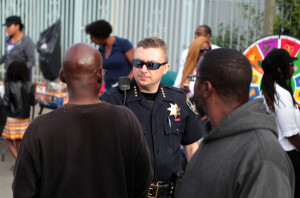 "This is something we really want to see this year, he said, adding that the measure might have a good chance of winning if it makes the 2016 ballot, a presidential election year. " I hope we're going to get there," he said.
Responding to his colleagues, Gallo argued that council members were not being called upon to agree with the measure but to pass it forward so that Oakland voters can decide.
"The reason I entertained (this measure) is not because I agreed with everything," Gallo said. "My job is to facilitate. What we have has not worked."
"I hear that people lack confidence in the City Council and police officers," he said. "This city has been dysfunctional for a long, long, long time."
Council President Pat Kernighan attended the meeting to offer, she said, "a different perspective."
The measure's supporters place "too much emphasis on the last five to 12 years," Kernighan said. "We need to acknowledge when progress is being made. We are finally moving forward, and I think we have to give it a chance."
Asked his position on the measure, Police Chief Sean Whent said, "I don't think it's proper for me to take a position one way or another on this.
"I would agree there needs to be (police accountability). I agree that police should be held to a higher standard," he said, adding that, "We have made significant progress."
Civil rights attorney and mayoral candidate Dan Siegel, who spoke at the Tuesday meeting, told the Post he believes the council should have let the measure go to the voters.
"I'm really frustrated with members of the council, particularly Councilmember Schaaf, for keeping the people of Oakland from have an opportunity to vote on this thing. It doesn't mean they have to agree with it."
"I guess (some) people don't want to upset the OPOA (Oakland Police Officers Association) and don't want to take a strong position to make sure the police department is accountable."