Congress of Neighborhoods Seeks Community Power in East Oakland Flatlands
October 8, 2017
|
Last Updated September 20, 2021
|
|
Community, Economic Development, Education/Schools/Youth, Elections & Voting Rights, Environment, Equal Rights/Equity, Gentrification, Housing/Foreclosures, Immigrant Rights, Oakland Job Programs, Reentry/Formerly Incarcerated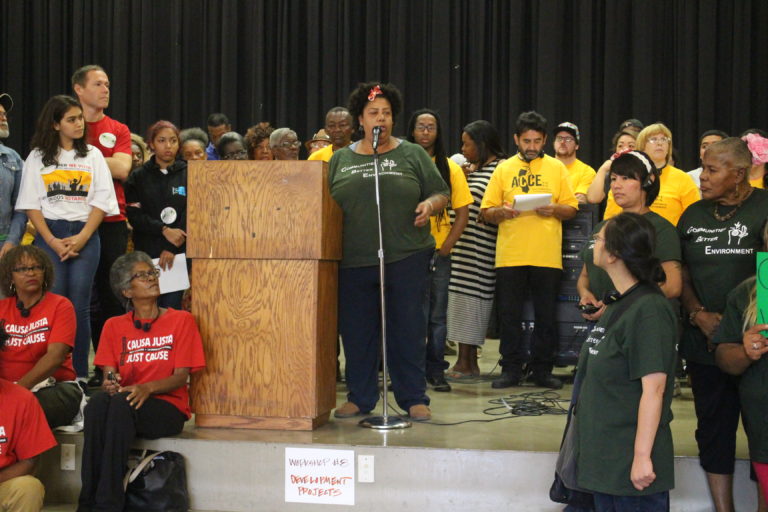 By Ken Epstein
Hundreds of local residents packed into an elementary school gymnasium last Saturday to attend the kickoff gathering of the East Oakland Congress of Neighborhoods taking the first steps to bring together the kind of flatland coalition that can force public officials to take the needs of their communities seriously.
The meeting, held at International Community Schools at 2825 International Blvd., was organized by some of the strongest community-based organizations in East Oakland: Alliance of Californians for Community Empowerment (ACCE), Just Cause: Causa Justa, Communities for a Better Environment (CBE), East Oakland Building Healthy Communities, EBAYC and Oakland Community Organizations (OCO).
The main purpose of Saturday's meeting was to create a common vision for going forward. To develop this vision, participants attended one of nine workshops: fair share of city services, including ending illegal dumping; homelessness, displacement and affordable housing; community peace and safety; holding elected officials accountable; creating a clean healthy environment; jobs, including jobs for youth and the formerly incarcerated; quality education; big development projects, such as the A´s stadium; and immigration.
Leading the meeting were representatives of East Oakland neighborhoods San Antonio, Fruitvale, Elmhurst and Sobrante Park.
In an interview with the Oakland Post, Vernetta Woods, a leader of Oakland Community Organizations (OCO) who lives in District 7, says she believes the event will build more unity and a more powerful voice for East Oakland residents.
For her, the main issue is education, the failure of the Oakland public schools.
"We're coming. People power is here," she said. "We need thousands to come together on this thing, not just one race or one organization. If that happens, we can make changes."
Teresa Salazar, a leader of Just Cause: Causa Justa who has lived in the San Antonio area for 23 years, explained the different organizations that are working together are creating a "stronger power."
"Rent is increasing. Is that the New Oakland – a lot of people living under the bridge?" She asked.
"At International (Boulevard) and 15th (Avenue), there is a lot of prostitution – Is that the New Oakland?
"No, Oakland needs a big change," said Salazar. "Everybody needs to participate, to organize for change, for there to be a New Oakland."
The Congress of Neighborhoods plans to release its "East Oakland Community Agenda" Tuesday, Nov. 7 at 5:30 p.m. outside City Hall.
For more information, email Nehanda Imara at [email protected] or Alba Hernandez at [email protected]