Community Groups Build East Oakland Neighborhood Power
September 13, 2017
|
Last Updated September 20, 2021
|
|
Affordable Housing, Commentary, Community, Economic Development, Education/Schools/Youth, Environment, Equal Rights/Equity, Gentrification, Housing/Foreclosures, Oakland Job Programs, oakland talks trash, Responsive Government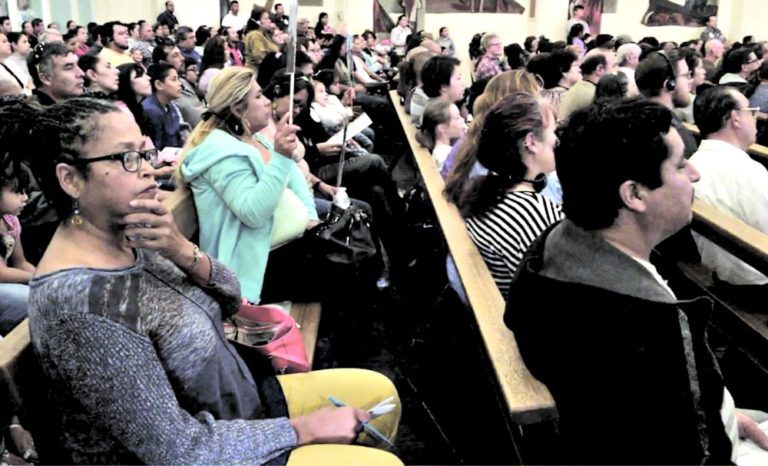 Local residents attend recent meeting to oppose illegal dumping.
By Ken Epstein
Some of the major community organizations in Oakland have joined together as the East Oakland Congress of Neighborhoods to hold a community assembly to build the collective strength of local residents to impact neighborhood issues such as trash and blight, potholes, the sex trade, homelessness, rising rents and the frustration of dealing with city officials and public agencies that do not pay attention.
The first meeting of the community assembly will be held Saturday, Sept. 30, 9:30 a.m. to 1:30 p.m. at International Community School, 2825 International Blvd. in Oakland. Food, childcare and translation will be provided.The East Oakland Congress of Neighborhoods includes the Alliance of Californians for Community Empowerment (ACCE), Just Cause; Causa Justa, Communities for a Better Environment (CBE), East Oakland Building Healthy Communities, East Bay Asian Youth Center (EBAYC) and Oakland Community Organizations (OCO).
"We expect 1,000 people at the assembly to discuss our values, make plans and discuss strategies and to hold Oakland officials accountable," said Evangelina Lara, a leader of EBAYC and resident of the San Antonio neighborhood for 18 years.
"These are the issues that the residents themselves have decided are the most important," she said. "This assembly is bringing together six (Oakland) organizations to build real power, from the lake to the San Leandro border."
Andre Spearman, an OCO leader, said the community-based organizations have been working together on some issues for a long time, but they have begun to feel that in order to have more clout, residents from throughout East Oakland need to work together on common issues.
In the past, he said, "We've had some victories," working in individual neighborhoods, "but it doesn't seem like enough power to really change things, to hold officials as accountable as they should be."
"If you don't have power you don't get consulted," he said.