Civicorps and City of Oakland Work Together to Train Youth as Truck Drivers
Posted in Business, Climate change, Community, Economic Development, Education/Schools/Youth, Environment, Labor, Oakland Talks Trash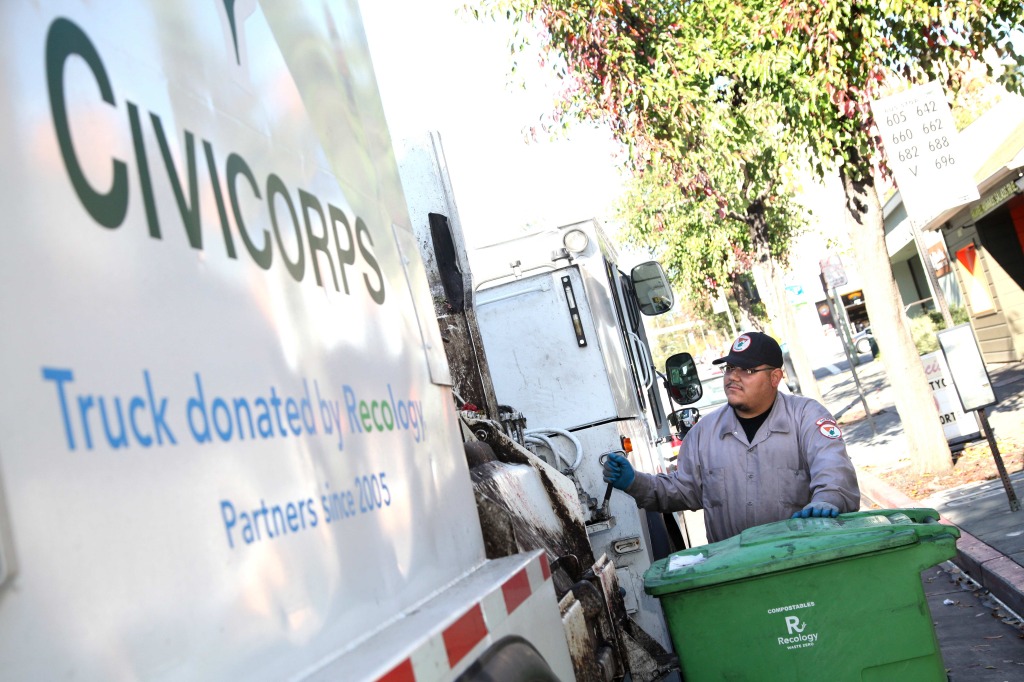 Recycling and organics truck driver Wulliam Montolla
By Ken Epstein
Oakland may become the only place in the nation where job opportunities for young people are written into a city's franchise agreement to pick up the trash.
As part of the Oakland City Council's recent 10-year contract with Waste Management, Civicorps – which provides high school diplomas and job training for young adults – is negotiating agreements that will allow its participants to work in jobs picking up green waste and enter relatively high paid positions as truck drivers.
Though the deals are not yet finalized, Alan Lessik, executive director of Civicorps, is optimistic that young people in the program will soon be driving trucks to pick up organic waste at commercial establishments throughout the city, to be delivered to East Bay Municipal Utility District's green digesters at the Army Base in West Oakland where bacteria will turn the garbage into electricity.
Currently trainees can earn their Class B drivers license through the recycling program. Under the new agreement, these trainees they will become Teamster Local 70 Apprentice drivers, which will allow them to become union truck drivers and earn substantial raises in pay.
"We don't have numbers yet, but their wages will almost double when they move from the pre-apprenticeship to the Teamster apprenticeship program," said Lessik.
Although Civicorps provides young people with work experience, education is at the heart of the program.
For the first four months in Civicorps, students go to school 30 hours a week, full time. After that, they go to a job site for 30 hours a week and attend school for eight hours a week.
Civicorps is the only accredited high school and job training program for youth 18-26 years old in the East Bay. As a charter school in Oakland for the last 10 years, the school offers students a real high school diploma, not a G.E.D.
About 75 percent of the program's students graduate, a higher rate than Oakland public high schools. Over 75 percent of Civicorps graduates go onto college or jobs, an impressive achievement for a program whose students had previously dropped out of high school.
In school, students study English, math, science and social studies. They explore career and college and can act in Shakespeare plays.
"What we know is everyone can learn, no matter what their past history has been," said Lessik. But in order to be successful in their studies, he says, young people may need support to overcome serious obstacles, such as homelessness, before they can focus on schoolwork.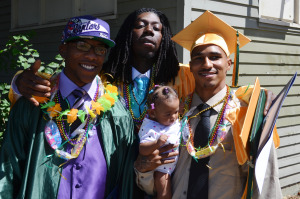 Civicorps Graduates Nykimbe Broussard, Harris Cox, and Michael Wilder.
Civicorps works with about 130 students at time. About 90 percent are from Oakland, the rest from other parts of Alameda and Contra Costa counties. Thirty percent have been involved in the criminal justice system; 28 percent are from foster care.
Ninety-eight percent are students of color.
"All of our students are poor – the school system has failed all of our kids in the past," said Lessik.
As the young people progress through the program, they begin "traditional conservation corps work," which provides them with basic skills training.
Civicorps has contracts with EBMUD, the cities of Berkeley and Oakland, as well as the East Bay Regional Parks District. The youth do fire prevention, build trails, clean out streams, pick up litter and learn to handle small tools.
"Our aim is to integrate our kids into the community in a positive way," said Lessik. "They're doing environmental and social good in the community and are seeing themselves as part of the community."
In Civicorps' recycling program, young people can earn their regular drivers' license and a Class B License that enable them to drive garbage trucks and other large vehicles.
"Through our program, they can get experience," Lessik said. "We keep them for two years, because you have to show you have two years of violation-free, drug-free work experience to be eligible for fairly well-paying jobs as drivers."
Civicorps, located at 102 Myrtle St. near the West Oakland BART station, has year-round enrollment for its school, job training and recycling truck driving program. For more information, call (510) 992-7800 or go to www.cvcorps.org.