City Council Approves Sale of Land for Lake Merritt Luxury Apartment Tower
Posted in Economic Development, Equal Rights/Equity, Gentrification, Housing/Foreclosures, Labor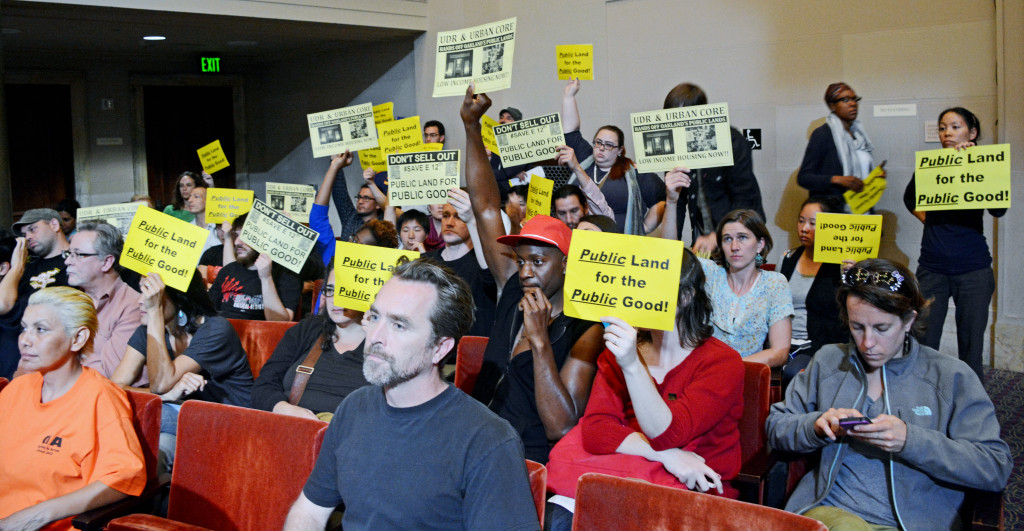 By Ken Epstein
The Oakland City Council voted Wednesday night to go ahead with the hotly contested sale of a one-acre parcel of public land to a local developer and his out-of-state partner to build a luxury apartment tower at East 12th Street next to Lake Merritt.
After several hours of debate on both sides, the vote went quickly, 6-0, with one abstention, in favor of the sale.
Voting in favor were Councilmembers Abel Guillen, Desley Brooks, Lynette Gibson McElhaney, Larry Reid, Annie Campbell Washington and Noel Gallo.
Dan Kalb abstained, saying he liked the deal but was not sure it was legal. Rebecca Kaplan was absent.
In the last week, Brooks joined the negotiations between Guillen and the development team, securing an additional $8 million from the developers for the city to use sometime soon to build affordable housing somewhere in the Eastlake/San Antonio area.
Councilmembers supported the arguments of city staff, who strongly urged the council to approve the deal, calling it a win-win for Oakland that includes sale of property for $5.1 million, $700,000 in community benefits, in addition to the $8 million.
Speaking at the meeting, construction workers, union leaders and trainees from the Cypress Mandela Training Center in West Oakland said they wanted to work. A representative of the Oakland NAACP said the organization supported the project.
Several speakers said this project is one of the few that has gone to African American developers. Black contactors and developers for the most part never win city contracts, they said, and it is these businessmen who provide jobs for Black workers.
Opponents of the deal argued that the issue was not about obtaining community benefits to move away but to maintain an existing community that is in the process of being displaced to make way for the wealthy who are willing to pay whatever landlords charge in order to live by the lake.
Furious at the council's vote, Eastlake neighbors and their supporters shouted:
"Shame, shame, shame! We reject this luxury tower on public land! We reject the violent displacement of Black and Brown people from Oakland!"
Some representatives of the neighborhood group are saying they will fight the property sale in court.