Castlemont High Celebrates Coming Out Day
By Zack Haber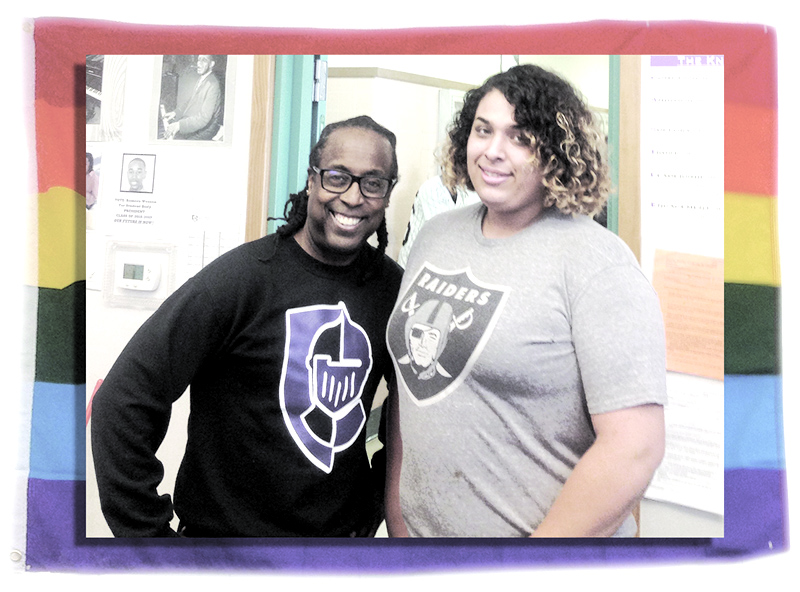 This year, Castlemont High School celebrated National Coming Out Day for the first time. On Oct. 11, Castlemont students, teachers, and staff joined the yearly celebration, a holiday that creates awareness for lesbian, gay, bisexual, transgender and queer people while encouraging them to be open about their sexuality and identity.
Steven Reaves, Castlemont's theater teacher and LGBTQ liaison, organized the celebration by hanging up pictures of famous LGBTQ people around the school and hosting a lunchtime party in his room.
The party featured music and pizza and attracted about 50 people. The attendees were mostly Castlemont students, but Castlemont teachers and one student from a neighboring charter school, Leadership Public School of Oakland, also attended.
"I was shocked," Reaves said. "I didn't expect that many people." Although LGBTQ students showed up for the party, Reaves says he thinks there were also many straight people who "came to support not only their peers, but also me as a gay teacher."
In addition to the school-wide celebration, some Castlemont LGBTQ students found and created their own meaning for National Coming Out Day. One student came out to his family as gay. Another student, a transgender teenage girl named Luis Salas, announced that she was running for homecoming queen.
Salas's announcement marks the first time that an openly transgender person has run for homecoming court in Castlemont High School's history. When asked about why she was running she said that she cared more about changing the school than winning. Salas has been openly transgender since 7th grade, which she said was hard at first but has become easier as time has passed.
"There aren't really a lot of openly trans people here but there are a lot of gay people," she said. "Since I started being more open I feel like people have started following under my footsteps."