Brooks Victorious, Kernighan Humiliated
Posted in City Auditor's Report, Community, Responsive Government
Multiracial outpouring of community support for Brooks
By Tasion Kwamilele
Council President Pat Kernighan's motion to censure Desley Brooks died for the lack of a second.
Brook's resolution to drop the motion to censure her and begin work on a policy governing council ethics in the future passed
by a 6-0 vote, with Kernighan and Lynette McElhaney abstaining.
McElhaney was loudly booed for abstaining.
Based on a recent report by the Alameda County Grand Jury, Brooks was accused of violating the City Charter for interfering with city staff to ensure the building of the Rainbow Teen Center at 58th and International Boulevard.
"I received numerous emails (asking) why we're not saying this was wrongful behavior," said Kernighan.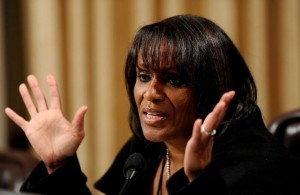 Audience members shouted in protest suggesting the motion to censure Brooks was a "witch hunt" and that the council needed to "do the right thing."
Others complained that those favoring censure were "putting the cart before the horse," trying to pass a censure motion before the council had developed a policy for censure.
Nearly all of the 74 public speakers who signed up to speak at the meeting supported Brooks and opposed censure.
Brooks argued that the charges against her utilized documents that did not have any connection with her, and she gave examples of other councilmembers, such as Libby Schaff, who violated the City Charter by directing the actions of staff.
"Facts you're sharing with the public are not true," Brooks told Kernighan, addressing Kernighan's explanation of the censure.
"You have a pattern of misstating things to fit your argument," Brooks said to Kernighan.
Brooks also said the meeting was being improperly held because the council does not have a censure policy in place. Councilmember Larry Reid called the motion a racially motivated attack.
"…On this council that I am a part of racism is alive and well," Reid said. "This action you're taking today is a dog and pony show."
"How can we trust you when you're attacking your colleagues?" asked Jean Johnson-Fields, a native and resident of Oakland, speaking to the council.
Carol Williams Curtis, an Oakland resident who lives in Brooks' district, said her son was killed in Brookfield Village in 2005. But another murder had not happened at that particular site because of the work Brooks does in the community.
"The stench of death is too high [and] that's the act that needs to be censured," Curtis said. Let's not make Desley the scapegoat."