Board Members and Students Weigh-in on School Changes
Posted in Community, Education/Schools/Youth, Equal Rights/Equity, Labor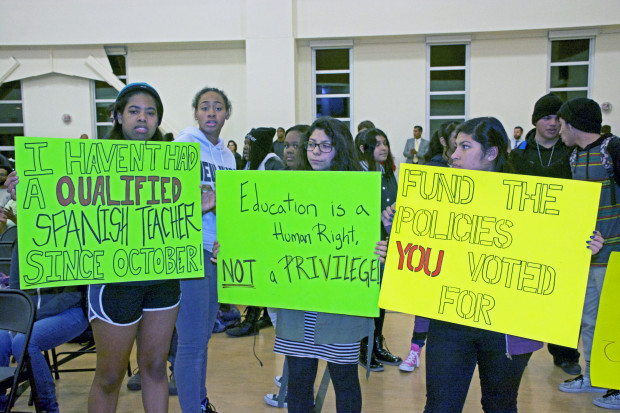 By Ken Epstein
Student and teacher speakers at Wednesday night's board meetings raised their concerns about the school redesign process that the district administration has initiated at five Oakland schools.
In interviews with the Oakland Post, school Board of Education members also discussed the process that is now getting under way.
Speaking at the meeting Edgar, a Fremont High senior, said, "Fremont is s a great school and has lot of diversity. We are not failing. We are constantly improving."
"You need to involve yourself in our community," he said. "How can you help us if you don't involve yourselves in our struggles? We need more books, better facilities and more resources."
Another Fremont student said, "You guys aren't scientists, so don't try to experiment on us. This is not a business – this is an education. It's a necessity."
So far, this process "was sneaky and not transparent," said a Fremont instructor. "Our parents and students know what they need. How about giving us more counselors? We only have one."
"We need (more) quality teachers. We need restorative justice," the instructor said. We know what we need. Why don't you put some money behind it?"
Fremont senior Rosa Contreras said, "I do not believe Fremont should be labeled a failing school. You don't even know us. I want to see the money (promised two years ago) start going to our school now – not later – now.
A student from Castlemont said. "We have not had a steady principal for three years. We don't know what to trust anymore."
Another speaker was Mike Hutchinson, who said the district could regain public confidence if the board simply deletes charter schools from the redesign process. "The board could remove any language about giving the schools to charters from the policy," he said.
District 5 Boardmember Roseann Torres said she was deeply impressed with the leadership exhibited by the students at Fremont High at the community meeting she attended last week and urged the district to support the students.
She said that the unity between Latino and African Americans students was wonderful to see and that the racial divisions that exist in Oakland are more about the attitudes of adults and based on the past.
In addition, Torres said she does not want to hear any more reports of administrators taking students outside and trying to intimidate them into not speaking their minds at these community meetings.
"I think this (process) is a bit rushed, and it's a big shock" coming so soon after the school bond Measure N passed in November, she said in an interview with the Post. .
"It is somewhat disrespectful (to tell students) you don't know what's good for you," she said. "These kids (at Fremont) know that Oakland Technical High has a lot more money" for resources such as sports uniforms and after school activities. "But they have nothing, and these are both public schools."
Board President James Harris, who represents District 7, said the community needs to give the redesign process time to mature, and "You will see what will emerge."
"This is based on the community. This is not about a top-down decision telling the community what's best for them," Harris said to the Post.
The district administration is "acknowledging the needs of each school site," he said. "What's good for one site" is not necessarily good for another one."
"I'm not going to vote for what the community doesn't want," Harris said, pointing out that some charters work because they have grassroots buy-in. "There are charters that work and charters that don't," he said.
Shanthi Gonzales, who represents District 6, said she is looking forward to seeing the administrative regulations that will govern this process.
"Those are the details about how this process will be carried out, and what I'm especially interested in is transparency. I feel strongly that there should be community representation on the Academic Review Panel that recommends proposals to the board, so that the public is part of the deliberation and sees how these decisions will be made," she said.
"These schools belong to all of us, and we need to assert our rights to participate in the decisions that are being made about them," she said. "That is why I will be looking hard at how we are including the public in every aspect of the process. Not just, can they participate at their schools – which they should – but also in reviewing the proposals and making recommendations to the board."