Big Win in Sacramento for Anti Rent-Gouging and Eviction Protections
Posted in Affordable Housing, Gentrification, Homelessness, Housing/Foreclosures, Responsive Government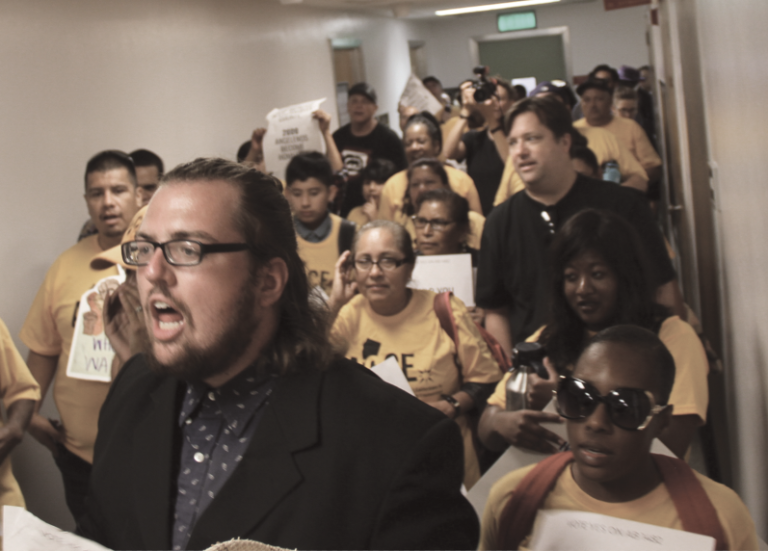 Tenant leaders of the Alliance of Californians for Community Empowerment (ACCE) and other organizing groups fill the California State Capitol, Wednesday, Sept. 11, to back the Tenant Protection Act, AB 1482. Photo courtesy of ACCE.
By Post Staff
After years of escalating and brutal displacement driving millions of Californians into poverty or homelessness, today, the California legislature this week passed Assembly Bill 1482 (Chiu) which is now headed to Governor Gavin Newsom's desk.
If approved by the governor, this could become the strongest anti rent-gouging and just-cause eviction law in the nation.
AB 1482, also known as the Tenant Protection Act of 2019, has been driven in large part by the advocacy of tenant leaders of the Alliance of Californians for Community Empowerment (ACCE) and other organizing groups. The bill gives protections to 7 million tenants, covering more tenants than any single tenant protection bill in recent US history. It will cap rent increases statewide at 5 percent plus the Consumer Price Index (CPI) as well as stop unfair evictions by requiring landlords to have a "just cause" for evicting their tenants.
"This victory proves that California's renters are a force to be reckoned with, and we aren't done yet. Led by people of color and seniors, the renters most likely to become homeless without these types of protections, ACCE members will keep fighting and keep winning until every single Californian is guaranteed a safe and affordable home," said Christina Livingston, the executive director of ACCE.
Since April of this year, ACCE leaders have made over one hundred in-district visits to key legislators, generated 1,646 calls across 18 assembly & senate districts, and brought hundreds of tenants from across the state to the capitol in Sacramento nearly a dozen times to lobby. In April, two ACCE members staged a sit-in overnight inside the Governor's office to urge him to step up for the bill and take a leadership role in its passage.
Sasha Graham, the state board chair of ACCE, who was homeless for three years after receiving a 200 percent rent increase and no-cause eviction, says she is incredibly grateful that families will never have to go through what she and her son went through. "This is an incredible victory for families. It demonstrates what people power can do. It is inhumane what my son and I went through, and I am incredibly grateful and take so much comfort in knowing that there is a safety net for my family," said Graham. "ACCE is the backbone to this movement, and without them I wouldn't have found my voice and the tenants' rights movement in California wouldn't be where it is today."
Cecilia Reyna, an ACCE member based in Compton and a tenant of Invitation Homes, a subsidiary of the private equity giant the Blackstone Group, says she is elated. The corporation, which bought up tens of thousands of single-family homes in the wake of the foreclosure crisis and turned them to rentals, is known for predatory practices of excessive rent increases, uninhabitable living conditions, arbitrary evictions and fee gouging.
Because of the Costa Hawkins Rental Housing Act, AB 1482 will be the first time that single family rentals owned by corporate landlords will have any form of renter protections.
"Despite our complaints, my landlord has been so incredibly negligent with maintaining our home that the city of Compton has condemned it and I now face a no-cause eviction. Invitation Homes has offered me zero support in moving. With AB 1482 passing, I now am due relocation assistance. This is huge for our family and huge for all tenants of corporate landlords," said Reyna.