'BBQing While Black' Leader Kenzie Smith to Become Park Commissioner
Posted in Against White Supremacy, Community, Equal Rights/Equity, Racial profiling, Rebecca Kaplan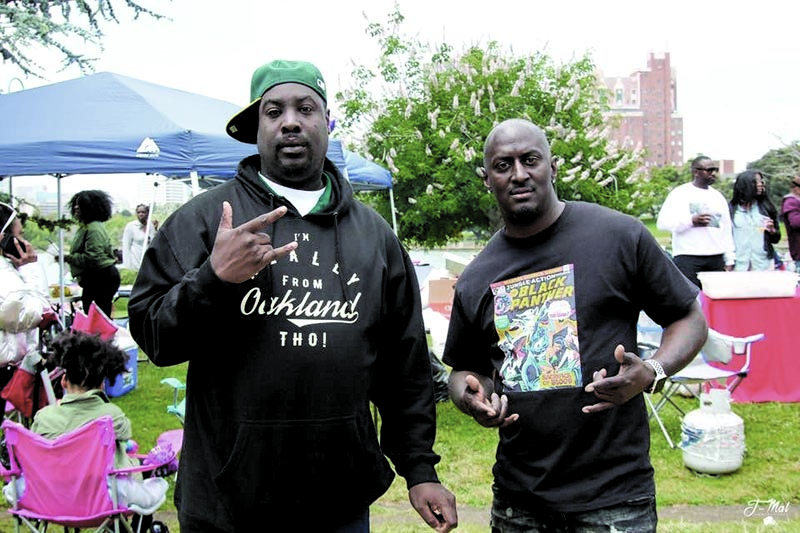 Kenzie Smith (left) and Onsayo Abram at last Sunday's "BBQing While Black" event at Lake Merritt in Oakland.
By Post Staff
Councilmember-at-Large Rebecca Kaplan announced this week that she is recommending Kenzie Smith, one the two men who was racially targeted for "BBQing while Black" at Lake Merritt, for a seat on Oakland Parks and Recreation Advisory Commission.
"He has a deep commitment to the Oakland community and a track record of public service and philanthropy," she wrote in a statement that was released Tuesday.
Before the appointment is final, Kaplan's recommendation must go to the mayor for approval.
Smith is a lifelong Oakland resident, community activist and founder of Dope Era Magazine. He wants to start a nonprofit to hire young people during the summer, including keeping the Lake Merritt park clean.
The Advisory Commission consists of 11 members appointed by the mayor and council. As a member of the commission, Smith would help make sure "regulations for use of our parks are clear and fair," said Kaplan.
Smith is looking forward to an opportunity to make policy for the parks. He told the East Bay Express, "I'm not going to let someone else have a 'BBQ Becky.'"