Army Base Developer Gets Amnesia on Promises to Hire West Oakland Workers
Posted in Army Base Jobs, Business, Community, Economic Development, Oakland Job Programs, Responsive Government, Transportation
By Ken Epstein
City agent and Army Base developer Phil Tagami of CCIG lashed out recently in an email newsletter against West Oakland community and environmental activist Margaret Gordon as one of a "handful of critics" who have "publically questioned
whether the project is creating 'enough' jobs" and claimed that "more jobs should be going to West Oakland and African American residents."
"In reality, there rightly was not a provision in the jobs policies that a particular Oakland neighborhood or ethnicity would receive a priority over another," according to Tagami's email "Oakland Global Newsletter" at the end of August.
According to Tagami's newsletter, African Americans so far have obtained 15.3 percent of the hours worked on the project – about 46 percent below what they should be receiving as 28 percent of Oakland's population.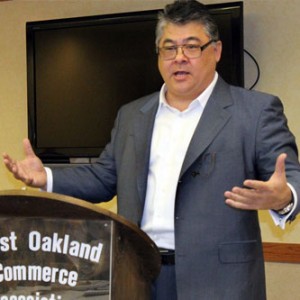 Tagami's present position, however, is at odds with the "consensus "agreement produced by the Jobs Working Group that included community members, labor and city representatives, on Oct. 27, 2011.
The Jobs Working Group met for nearly four years and was facilitated by then Councilmember Jane Brunner for its last year and a half. The report on the consensus agreement was submitted to the City Council on Jan. 24, 2012.
"The goal for local hire is 50 percent of work hours for Oakland residents … with first priority being given to zip codes that comprise West Oakland and City Council District 3, and second priority to areas within the Oakland Enterprise Zone Targeted Employment Area," according to the Recommendations from the Jobs Working Group on Employment-Related Community Benefits for the Development and Operations at the Former Oakland Army Base.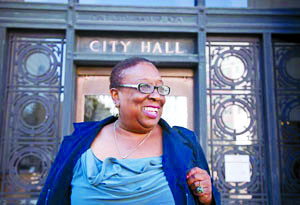 In the course of the working group's meetings, there was a recognition and eventual consensus agreement on the need to hire African Americans in jobs in the building trades from which they have been traditionally excluded.
Since legal constraints do not allow for race-based preferences or goals, the working group decided to utilize zip codes with high numbers of African Americans and low income workers. This approach was worked out in consultation with the U.S. Labor Department , according to Gordon and Brian Beveridge, who were both involved in the working group.
"We never said anything about African Americans.. We just talked about West Oakland," said Gordon.
Further, Gordon and Beveridge say that Tagami and city consultant Julian Gross have been trying to portray them as going back on an agreement they helped to negotiate. Gross was hired by the city as a recognized expert on community benefits agreements.
Tagami criticized Gordon for telling the Oakland Post, "People negotiated one thing, but then the agreement went to labor and other 'stakeholders,' and it was changed before it went to the City Council."
"The notion that there were surprise twists and something was changed in the backroom without everyone who signed the cooperation agreement knowing about it, is not a fair or accurate representation of the city's process," according to Gross, quoted in Tagami's newsletter.
"It's one place they're trying to adjust history," said Beveridge. "We were part of a working group that was collaborating to figure out how to get people hired."
"We never got to sit at the table while the unions and the developer and the contractor were actually in negotiations. .We had (then assistant City Administrator) Fred Blackwell and Julian Gross representing our interests in those negotiations."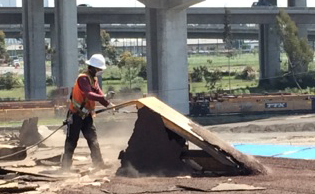 "We wanted to sit at the negotiating table, but we were told by Blackwell that Phil Tagami would not meet with us at the table," said Gordon.
When the final negotiated agreement went to the City Council, Beveridge and Gordon were told that this was best agreement they could obtain and that all other parties were going along with the agreement.
"They act now like we're being bad sports" to complain about the agreement, said Beveridge.
"We were asking for them to lower the barriers so that people could get into the jobs," Beveridge added. "Maybe we made a mistake signing the (agreement) – then we would be not be getting used the way we are now."