Actor Danny Glover Joins Kaiser Permanente Workers to Protest as Strike Nears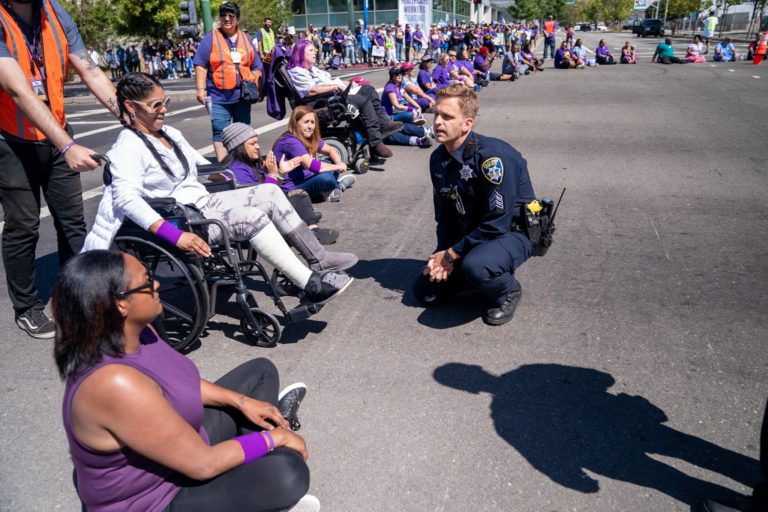 Hospital workers block street on Labor Day,, Sept.2., at Kaiser headquarters in Oakland, protesting as strike against Kaiser Permanente nears. Photo courtesy of Coalition of Kaiser Permanente Unions.
By Post staff
Actor Danny Glover joined thousands of workers, patients, clergy, elected leaders and community allies Monday, Sept. 2 to protest against Kaiser Permanente's labor practices at the healthcare company's headquarters in Oakland, as 80,000 Kaiser workers nationwide are set to strike in early October.
Following a short rally, workers marched to the Kaiser Permanente Medical Center, 3600 Broadway in Oakland, where 70 of them engaged in civil disobedience by blocking an intersection near the facility.
"On the one day meant to recognize working people, it's a shame that Kaiser Permanente is attacking the same employees who made it successful in the first place," said Isis Acevedo, a schedule maintenance clerk at Kaiser Permanente in South San Francisco. "We reject what Kaiser has become, and instead urge the corporation to join us in the fight to provide quality patient care and protect good, middle-class jobs that America needs."
Similar Labor Day protests of Kaiser Permanente workers were held in Los Angeles, Sacramento, Denver and Portland, Ore., where thousands more combined demonstrated against what they are calling Kaiser's "failure to bargain in good faith."
While Kaiser Permanente is a "non-profit," it has reported profits of $11 billion since Jan. 1, 2017, including $5.2 billion just in the first half of 2019. In addition, it has more than $37 billion in reserves and pays at least 36 executives more than $1 million annually, led by CEO Bernard Tyson and his $16 million-a-year compensation.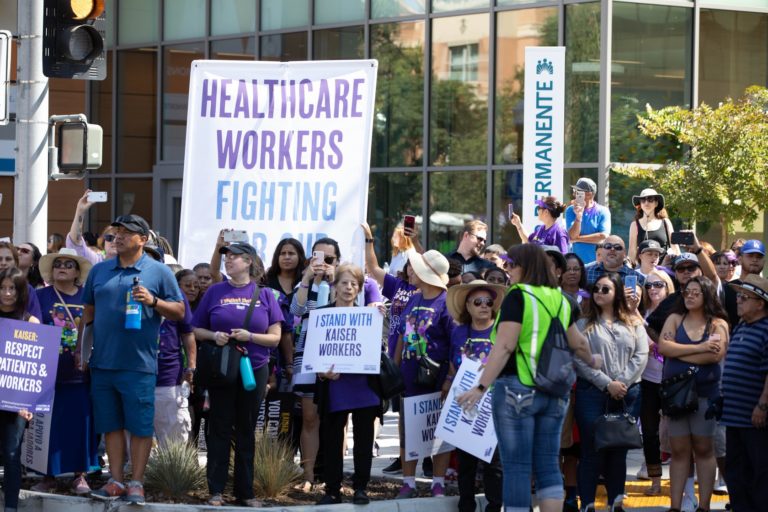 The strike would begin in early October and affect more than 80,000 Kaiser Permanente employees nationwide, of which 66,000 are based in California. It would be the largest walkout since 185,000 Teamsters went on strike at United Parcel Service in 1997.
In December 2018, the National Labor Relations Board charged Kaiser Permanente with failing to bargain in good faith.
The Coalition of Kaiser Permanente Unions comprises unions in California, Oregon, Washington, Colorado, Hawaii, Maryland, Virginia and the District of Columbia. Their national contract with Kaiser Permanente expired Sept. 30, 2018.
Kaiser Permanente workers are bargaining to:
Restore a true worker-management partnership, and have Kaiser bargain in good faith;
Ensure safe staffing and compassionate use of technology;
Build the workforce of the future to deal with major projected shortages of licensed and accredited staff in the coming years; and
Protect middle-class jobs with wages and benefits that can support families.